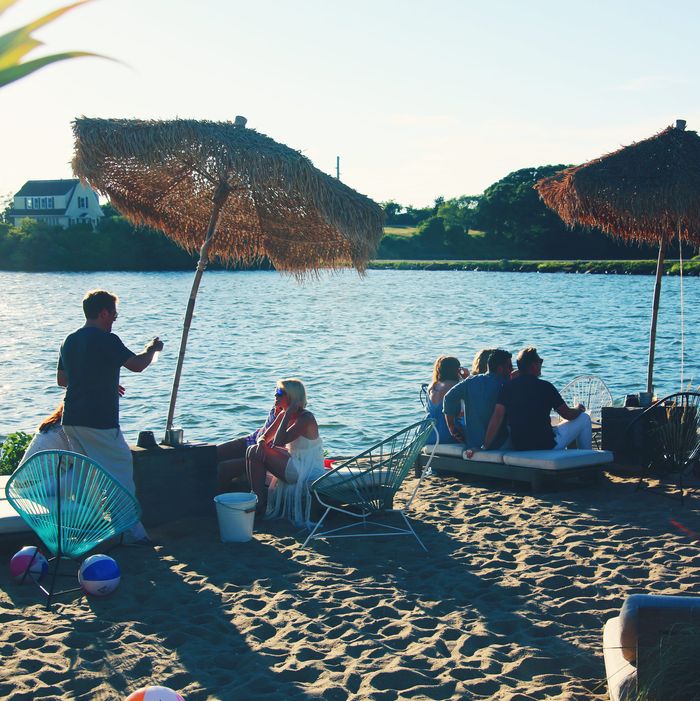 The Surf Lodge.
Photo: Sonia Moskowitz/Getty Images
It's been a really difficult few days for those who are aware that the Surf Lodge, a Montauk "hot spot" favored by socialites, exists. First, Governor Andrew Cuomo didn't show up to his Saturday fundraiser at the establishment (even though it was partially organized by the Winklevoss twins). But then, on Sunday, something even more tragic occurred: A camel statue with the words "Save Water, Drink Rosé" was reportedly … decapitated.
According to "Page Six," it's unclear what exactly happened to the head of the "beloved," life-size, pink, rosé-propaganda camel statue (that had long resided on the sand behind the Surf Lodge) on Sunday. A "source" said people had been climbing on it and hanging off of it, so that could be what led to the unfortunate beheading. The decapitated fake head was later found by a Surf Lodge employee.
But luckily, there's some good news amid the sorrow: The Surf Lodge is replacing the statue in time for this weekend's fancy crowd, thank God. Per "Page Six":
The faux beast's twin — a re-enforced replica of the artwork, which says "Save Water, Drink Rosé" — will arrive this weekend in time for a brunch with cosmetics and wellness guru Bobbi Brown.




The new camel will spend the rest of the summer at the Montauk hot spot, where an insider told Page Six guests are encouraged to "admire and take selfies, but please don't touch."
Hopefully, Cuomo will stop by to pay his respects before the headless-statue is taken away.