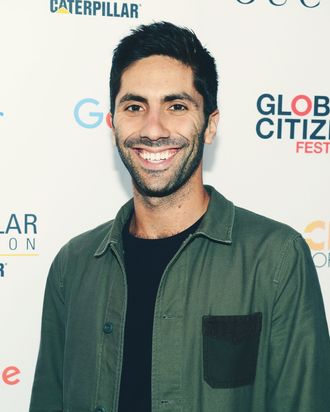 Nev Schulman.
Photo: Noam Galai/Getty Images for Global Citizen
In May, MTV suspended production on the show Catfish after sexual-misconduct allegations against host and executive producer Nev Schulman became public. The network closed their internal investigation last month; now, in an interview with People, Schulman said he's trying to move on.
"I'm doing much better now. It was a really difficult time for me, as much for my wife and my family. It was tough," Schulman told the publication.
A woman who appeared on Catfish, and remains unknown to the public, claimed Schulman directed inappropriate and sexual comments at her while filming, but MTV concluded her accusations were "not credible and without merit."
According to People, fans have theorized Schulman's accuser is Ayissha Morgan, who went on Catfish in 2015 during season 4 and posted a YouTube video on May 12, claiming the show's "main person" made inappropriate comments to her.
"On every break from filming, every time they said cut, they're like, 'Oh, well when can I take you on a date?' Mind you, this was 20 minutes in from us meeting for the first time. I was in such an uncomfortable place and a freaking hard time in my life as well. I'm at my most vulnerable," Morgan says in the video. Morgan hasn't been available for comment. Schulman denied her claims in a statement to People in May.
"To be accused of something that I squarely did not do and to have the harsh judgment that followed and no way to counteract or do something in the moment to correct that was very difficult," said Schulman. "It was frustrating. I just felt so powerless."
Schulman, who once declared an entire elevator "abuse free" as a feminist gesture, has previously been accused of punching a woman — something he readily admits. In his 2014 book In Real Life: Love, Lies & Identity in the Digital Age, Schulman wrote that he had been kicked out of Sarah Lawrence College for punching a woman in the face at the school's annual Sleaze ball dance in 2006. The woman told Vulture she approached him after observing him taking photos of people without their consent. Schulman insisted that he acted in self-defense.