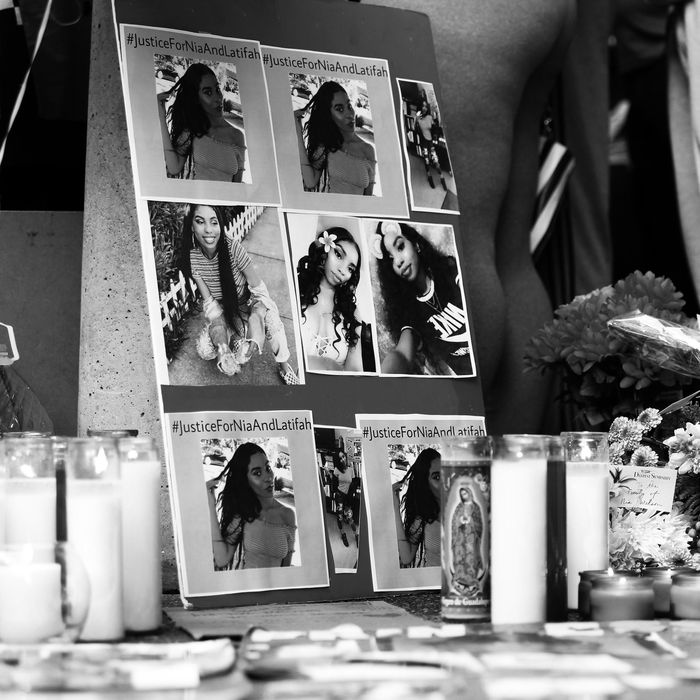 A memorial for Nia Wilson.
Photo: Lorin Eleni Gill/AP/REX/Shutterstock
Nia Wilson, 18, was fatally stabbed on Sunday while on a Bay Area Rapid Transit (BART) station platform in Oakland, California. Her sister, Lahtifa Wilson, 26, was also wounded in the brutal attack. The 27-year-old suspect in the attack, John Cowell, was arrested on Monday while he was riding a BART train.
As BuzzFeed News reports, BART Police Chief Carlos Rojas said that during the Sunday attack, Cowell, a white man, allegedly pulled out a knife completely unprovoked before "very rapidly" stabbing Wilson and wounding her sister, who are black. At the time, the women had been exiting a train at MacArthur Station. The suspect then fled the scene as authorities attempted to help the victims.
"In my close to 30 years of police experience, it was probably one of the most vicious attacks that I have seen," Rojas said at a Monday news conference.
Police began a massive search for the suspect following the Sunday night attack. On Monday, around 6:30 p.m., authorities finally apprehended Cowell while he was on a BART train. Pictures of the suspect had been circulating online, and passengers on the train alerted the authorities to his presence once they spotted him.
Following the murder, protests broke out in Los Angeles and other parts of California, as many believe the brutal killing of a black woman by a white man was racially motivated, BuzzFeed News reports. The hashtag #NiaWilson also began trending, with many people taking to social media to share their heartbreak, disgust, and horror over the senseless attack.
According to KRON4, Cowell had a history of violent behavior. In 2016, a restraining order was filed against him by Kaiser Foundation for harassing an employee. He had also been sentenced to two years in prison that year for using a box cutter during a robbery. He had only been released on parole in May.
Rojas said at the Monday press conference that authorities are still investigating his possible motives. "We don't take anything off the table," he said, per BuzzFeed News. "While we don't have any facts that suggest he is connected with any white supremacist group, we are going to explore all types of possibilities and options."