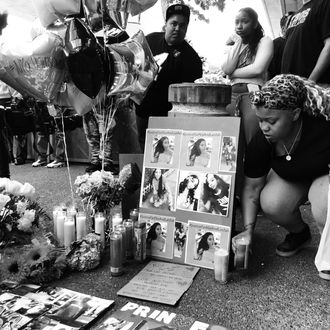 A vigil for Nia Wilson.
Photo: Lorin Eleni Gill/AP/REX/Shutterstock
Nia Wilson was just 18 years old when she was stabbed to death by a complete stranger as she disembarked from public transit in Oakland on Sunday night. She died at the scene. A day later, a 27-year-old man named John Cowell was arrested on suspicion of her murder.
On Monday night, a vigil was held in her honor at MacArthur Station, where she was killed. A Facebook page for the event described the gathering as a place for the community to "come hold space, light a candle and be together in our collective grief." The vigil soon transformed into a protest, with members of the community leading call-and-response chants of "Say her name" and "Nia Wilson."
In a statement posted to Facebook, Oakland mayor Libby Schaaf said, "The senseless murder of Nia Wilson and the stabbing of her sister Latifah has traumatized our community, and most especially their family and friends. I want to again express my condolences to them, first and foremost."
"The fact that his victims were both young African-American women stirs deep pain and palpable fear in all of us who acknowledge the reality that our country still suffers from a tragic and deeply racist history," Mayor Schaaf wrote.
Nia's sister Latifah, who was also attacked by Cowell, played some of Nia's music during the vigil. Nia was a rapper, and her music was played loudly over a thousand people gathered to remember the young woman.
In an interview with ABC 7, Latifah Wilson told reporters that her sister was "the most sweetest person on the earth, she didn't do nothing to nobody."
Nia recently graduated from from Oakland High School. A GoFund Me page set up by her family described her as "full of life, smart and beautiful beyond words. Nia loved to do makeup, hair and get dolled up and enjoy life."
Investigators have not yet ruled out if Nia's murder was a hate crime. The Wilson sisters are both black, and the suspected attacker, John Cowell, is white. A large memorial in her honor has been erected at MacArthur Station.