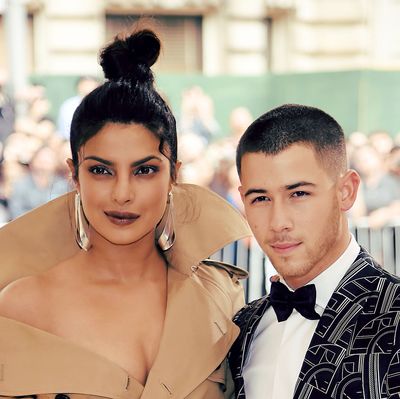 Priyanka Chopra and Nick Jonas.
Photo: Dimitrios Kambouris/2017 Getty Images
Remember two months ago (May)? USA Network star Meghan Markle and English prince Prince Harry had just gotten married in a quaint, intimate ceremony, the Bachelorette was just starting, and former Disney star and proud nonvirgin Nick Jonas and his new girlfriend, Quantico actress Priyanka Chopra attended the holy, holy, holy Met Gala together. Now, eight full weeks later, the Bachelorette is almost over, and Jonas and Chopra are engaged!
A source told People that Jonas, 25, proposed to Chopra, 36, in London last week, after shutting down a Tiffany store in New York City to choose the ring. The couple has been dating for two months. According to the first source, they're "so happy," and another source says they are "very, very happy."
The couple reportedly kept in touch after meeting last year, but a source told People things "really heated up" when they met each other's families. Jonas brought Chopra to his cousin's wedding on June 9, and later that month, she brought him to India to meet her mother.
While neither Jonas nor Chopra's reps have confirmed the engagement yet, Chopra's director for her upcoming film Bharat seems to have broken the news early, tweeting on Thursday that she will no longer be a part of the film for a "very, very special" reason and that she told them "in the Nick of time." (Do you see what he did there?)
PriJonas (Jopra?) are the latest celebrity couple to hop aboard the high-speed betrothal train, along with Pete Davidson and Ariana Grande, and Justin Bieber and Hailey Baldwin.
Best wishes to all of them, and who knows where we'll be two months from now (September).