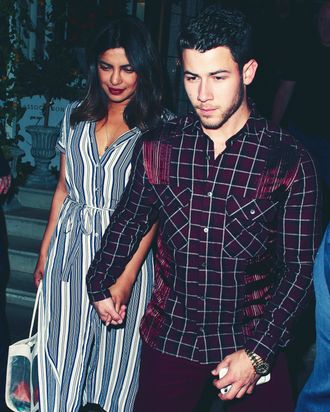 Priyanka Chopra and Nick Jonas.
Photo: Ricky Vigil Moran/GC Images
Nick Jonas and Priyanka Chopra were apparently living like royalty just before the 25-year-old former Disney star proposed to his 36-year-old girlfriend of two months, as Us Weekly reports that the couple took a lovely jaunt to visit Meghan Markle and Prince Harry's country home not long before Jonas popped the big question.
According to a source, the newly engaged couple visited the royals in Oxfordshire, England, where Chopra introduced Jonas to her close friend, Markle. While it's unclear what exactly transpired during the couples' time together, the vacation was clearly a success, given Chopra soon after agreed to marry Jonas.
Plus, following reports of Jonas and Chopra's engagement last Friday, a source told E! News that Markle was "very excited" to hear the news. Hopefully the friends have as much fun at Jonas and Priyanka's future reception party as they did at Markle and Prince Harry's.