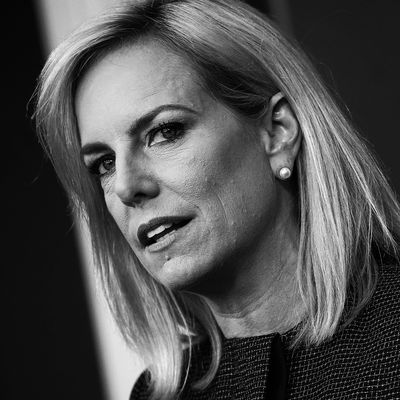 Kirstjen Nielsen.
Photo: Alex Wong/Getty Images
Good and evil. Right and Wrong. They're tricky to tell apart sometimes. Kirstjen Nielsen is definitely having a hard time with it. While speaking at the Aspen Security forum earlier today, the Homeland Security secretary was asked about President Trump's "both sides" comment on the white-supremacist attack in Charlottesville last summer.
Nielsen, ever eager to stay on the wrong side of history responded "I think what's important about that conversation is, it's not that one side is right and one side is wrong."
"Anybody that is advocating violence, we need to work to mitigate," she added. To be clear: there was one wrong side. White supremacists organized a the Unite the Right rally last summer, which resulted in the murder of Heather Heyer and severely injured several others.
Then when asked if Russia interfered with the 2016 presidential election, Nielsen bolstered her already dismal response by … conflating Russian election interference, violent white supremacists, and the Syrian war as similar types of two-sided conflict?
"I think what we have seen on the foreign influence side is that they were attempting to intervene and cause chaos on both sides, whether it's in Charlottesville — both sides — whether it's in Syria — both sides," she said.
Secretary Nielsen can't seem to tell the difference between right and wrong on a lot of issues — ICE operates under DHS and that agency is routinely accused of human-rights violations. Here's to hoping she keeps getting booed out of restaurants until she can learn to tell the difference.