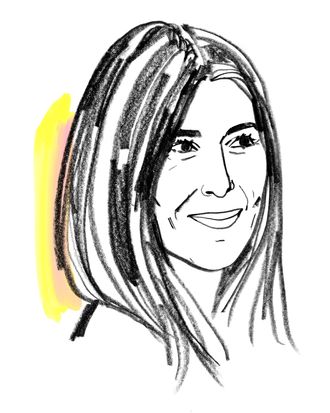 Nina Garcia.
Illustration: Lauren Tamaki
Nina Garcia is the editor-in-chief of Elle Magazine, the author of four books on fashion, and — perhaps what she's best known for — the judge of Project Runway since 2004. She lives in New York with her husband and two kids and never eats dinner after 7 p.m. Here's how she gets it done.
On mornings: By 6:15 a.m., I wake up, read the newspaper on my iPad in bed — the New York Times, the Cut, Women's Wear Daily — and I'll have a first coffee before the kids wake up, because I need it. Around 6:45 a.m., it's time to wake up the boys, ages 7 and 11, and get them ready for school. We used to sit down for breakfast and have Amazon Alexa with us, but that became more about Alexa — "Tell me a joke, Alexa, read us the news!" So we had to retire Alexa.
When they're done with breakfast, either my husband or I will walk the kids to school, about five blocks away. If it's me, I'll put on some workout clothes and I'll also walk the dog, drop the dog off, and then there's a Pilates studio right in front of my house, a SoulCycle about three blocks from my house, and the park is also close to my house — so there's always some kind of circuit that I could do. Then I'll come home, get dressed, and get ready for work.
After my workout, I'll have breakfast. Usually fruit, yogurt, some whole-wheat toast — maybe a juice. I really love pineapple. If I could have fresh pineapple every day, I probably would. People kind of make fun of that, but it's my fruit of choice. I like that sweetness in the morning, and I'll put it with yogurt or I'll do it with cottage cheese or I'll have it with a piece of toast. I'm really into that combination.
On shoes: The weather and my schedule really determine what I'm gonna wear. Do I have a presentation to give? Do I have to be at work and then am I going out for cocktails? Or am I going back to pick up the boys from school or have a school event?
That all is defined by my shoes, right? And am I wearing high heels? Am I going to need a change of footwear? I probably won't change the clothing, but shoes are the one item that will change. The shoe situation is the key to everything.
I have had the moment in the office when I'm like, "Oops, I really need a pair of flats! Help, can I go to the closet and borrow a pair of flats?" But usually those samples are in a size 9 and I'm a size 7, so I've been known to waddle around in size 9 flats — especially during Fashion Week, when it gets really crazy.
I'm pretty easy with the makeup. A little bit of mascara. I'll use a chubby from Clinique for the lip. I live and breathe the Chantecaille Radiance Gel Bronzer — I use it almost every day. That's really all I use. I like to look like myself.
On lunch: If I am out of the office, I will usually go to Marea, on 59th Street — walking distance from the office. But most days I'll eat at the Hearst café. They have this salmon poké bowl — like lettuce, salmon, and avocado and brown rice. Sometimes they have it, sometimes they don't, but the guys already know that I'm gonna ask for it, so even when they don't have it, they'll make it for me.
On meetings: Sometimes there are a lot of meetings. And I like to get things done. I love a meeting when something is done and resolved and tackled, but there's sometimes that meetings go on and on forever. I am more of a doer, so meetings can frustrate me.
On keeping employees happy: I have a very open-door policy. They aren't really required to make an appointment to see me. I like to see them as often as I can and any of my employees can come into my office at any point if I'm not, obviously, in a meeting with somebody else. I think sometimes that frustrates my assistants, but it's very important to hear the voices of my employees and my editors. I like to hear all of their thoughts.
On advice for women: I got approached to be on Project Runway. I had never thought about doing anything on TV. I didn't really want to be on TV. It was something that was very scary for me. It was an opportunity that I almost passed on because I was so scared of being a failure. I also thought, It's going to end my career. It was a great lesson that you really have to challenge yourself, that you have to take a chance.
Project Runway came at a pivotal moment in my career. The show was like the eye of the storm. And all these brands had started coming in, H&M and Zara, and all that, and it was the real democratization of fashion. And the show kind of highlighted all that. It also afforded me the opportunity to write books. And when I saw social media happening, I was one of the first to jump onboard because again, I had learned a lesson. It's about taking chances.
On mentors: When I first started in this business, there were not many women mentors. I was very lucky to work with Joanna Coles when she was the editor-in-chief at Marie Claire. That was the first time that I saw a woman editor-in-chief be so supportive to other women on her staff, and she was such a mentor to so many of the editors who worked for her. That really opened my eyes — that you have to support the other women around you. She was one of those editors-in-chiefs who had an incredible position of power but was also so generous.
You know, she's a very smart lady, but when she doesn't understand something, she doesn't fake that she understands it. She will go ahead and say, "I don't understand that. Can you explain it?" That is also something that I say to my editors all the time. It doesn't make you weaker. On the contrary, for you you to say, "Listen, I don't understand. Can you explain that?" There's some strength in that, because you are going to end up knowing, as opposed to not knowing but pretending that you know.
On early dinners: I like to have a very early dinner. I think that eating after 7 is really sinful. If I have to, have to, eat after 7, I will. But I like my body to fast until the next day. I believe in that. I just feel healthier. I feel lighter. I will try to eat with the kids or with my husband as early as possible.