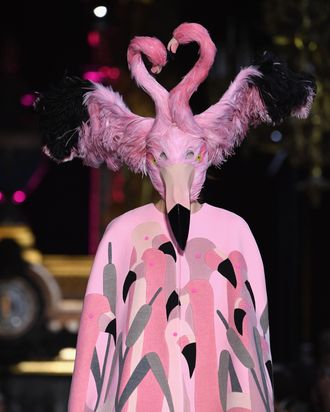 Shiaparelli fall 2018 haute couture.
Photo: Pascal Le Segretain/Getty Images
Fashion happens faster than ever these days. Each week, we attempt to make sense of it in a column called, "What Is Fashion."
The fall 2018 haute couture shows took place this week in Paris, France. I want to talk to you about them, but I can't without first bringing up Jonathan Franzen.
Since Taffy Brodesser-Akner's profile of the writer came out in The New York Times Magazine last week, I have thought of little else. Like most people who've written about Jonathan Franzen, Taffy explores his love of birds. It cannot be stated enough: Jonathan Franzen really loves birds. (Almost as much as he loves sex.) But instead of writing the obvious profile, Taffy made birding the foundation for a story about a man who, in the age of sharing, has built a fence around himself.
Let's call it the "Franzen Fence." Inside the Franzen Fence, you do not have to explain yourself. You do not have to participate in any discourse beyond the one inside your own head. You do not have to be anyone but yourself. There are birds there, of course, but there is no Twitter or Instagram. Likes don't matter; neither does anyone's opinion about anything you've ever done (not even Oprah's.)
When I feel a wave of anxiety, or jealousy over another writer's work, which is daily, I tell myself to put up my own Franzen Fence. The Franzen Fence is selfish, privileged, and maybe impractical, but if used correctly, can theoretically produce Good Work for all to enjoy.
I'm starting to think that haute couture is fashion's Franzen Fence. What inspired this was, of course, the birds. There were so many birds on the runway this season! In a tribute to the late Hubert de Givenchy, designer Clare Waight Keller showed a cape made of white, dove-like feathers. Armani Privé presented a neon pink poof of a cape. Meanwhile, Giambattista Valli and Fendi showed subtle feather accents on shoes and shoulders, respectively.
And then there were the literal birds. Designer Bertrand Guyon brought some of the late Elsa Schiaparelli's favorite motifs back to life, including flamingos. Valentino also had dramatic feathery creations, plus a dress with birds all over it.
These anthropomorphic designs were luxurious and fantastical in precisely the way that makes couture so wonderful. Despite being France's most regulated form of fashion, it is liberated from having to please the masses. Couture clients are rare birds.
"With ready-to-wear, your vision of beauty relates to the times you are living in," Valentino designer Pierpaolo Piccioli told Vogue Runway. "Couture involves a deeper and more intimate perspective, to go further into your own vision of beauty."
On the other hand, fashion designer and podcast host John Galliano proved that Couture can exist in its own world while simultaneously referencing the current moment. His show for Maison Martin Margiela was inspired by people who "don't want to live within the confines of society" — or those who live within the Franzen Fence, literally padding themselves with protective layers. But they also wore virtual-reality goggles and iPhone holders on their ankles, inspired by the lives of Galliano's interns.
"Streetwear will always inspire for sure," Galliano says. "But I'm a dressmaker." In this way, he's perhaps the most Franzen-like figure in couture right now: he believes he can remain relevant by privileging craft above all else.
Following the menswear shows, where Virgil Abloh's debut at Louis Vuitton occasioned much discussion about streetwear's role in fashion, Couture Week was a salve for those who turn their noses up at luxury T-shirts. Some have questioned whether or not couture can remain relevant in these fast-fashion times. But I think couture benefits from putting up a Franzen Fence, just as streetwear benefits from its engagement with the world. The two can co-exist. As Franzen will tell you, a novelist doesn't need to be on Twitter to capture a world dictated by it.
Why birds, though?
Here's the thing about them, Taffy writes in her Franzen profile: "They don't care about people. They don't interact with them, and yet they are totally accurate seismographs for people's behavior. They reflect us without coming anywhere near us."