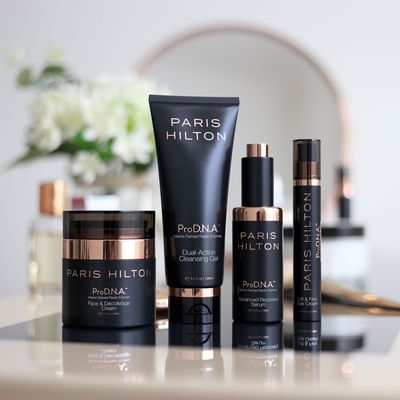 Photo: Courtesy of Paris Hilton Skincare
Paris Hilton lives a life of many hyphenates. She's an heiress, the head of a perfume empire, a decorated DJ, an actress, a Juicy Couture sweatsuit archivist — the list goes on. And now, the most well-known Hilton is making her debut as a skin-care entrepreneur with a new line, ProD.N.A.
Hilton's team declared via press release that she's "literally met with world-renowned chemists and scientists to tackle select beauty concerns." The result is a skin-care line that aims to repair skin cells damaged by UVA and UVB exposure before your skin shows the visible effect of sun damage.
There are four unisex products: Lift and Firm Eye Cream, Advanced Recovery Serum, Dual Action Cleansing Gel, and the Face and Décolletage Cream. They contain a "GenoMatrix" complex using enzymes sourced from microalgaes in the Mediterranean Sea, and together they help repair cells, improve elasticity, and reduce pigmentation, fine lines, and dullness.
In true Hilton fashion, there's some glamour beyond just seaweed. The eye cream contains diamond powder, while the serum contains something called "caviar lime," which allegedly evens discoloration and smooths and brightens skin.
Hilton knows how to give the people what they want: Since launching about a week ago, the brand's Instagram account already has 70.5 thousand followers. ProD.N.A. is available on Hilton's website. Don't forget to send some samples to John Mayer.