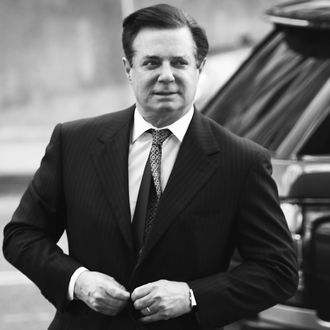 Paul Manafort, not in a jacket made from an ostrich.
Photo: Brendan Smialowski/AFP/Getty Images
When Paul Manafort was first indicted for "conspiracy against the United States, conspiracy to launder money," and plenty of other crimes, it was revealed that the former Trump campaign manager spent money like a madman. There was the $934,350 at an antique rug store in Virginia, the $849,215 at a men's clothing store in New York, the couple hundred thousand dollars more on luxury cars — he was insatiable. He even rented a $14,000-a-month condo in SoHo.
During the first day of Manafort's trial for the alleged crime spree he went on, other lavish purchasing decisions were revealed. The Washington Post reported that Manafort bought a $15,000 jacket "made from an ostrich," according to Assistant U.S. Attorney Uzo Asonye.
Asonye did not share whether the jacket was made out of ostrich leather or ostrich feathers, which seems like a cruel omission of detail. Designers like Gucci sell ostrich leather jackets, and it is hard to imagine Manafort pulling off feathers, so it's fair to guess it was made from leather.
Manafort's defense team did not have an explanation for the ostrich jacket or the other purchases — but they did claim that Manafort was duped by his former business partner Richard Gates, who embezzled money from him.
Maybe Gates embezzled money from Manafort, but nobody made Manafort spend $15,000 on a jacket made from a bird with long legs. That decision seems like its own crime.