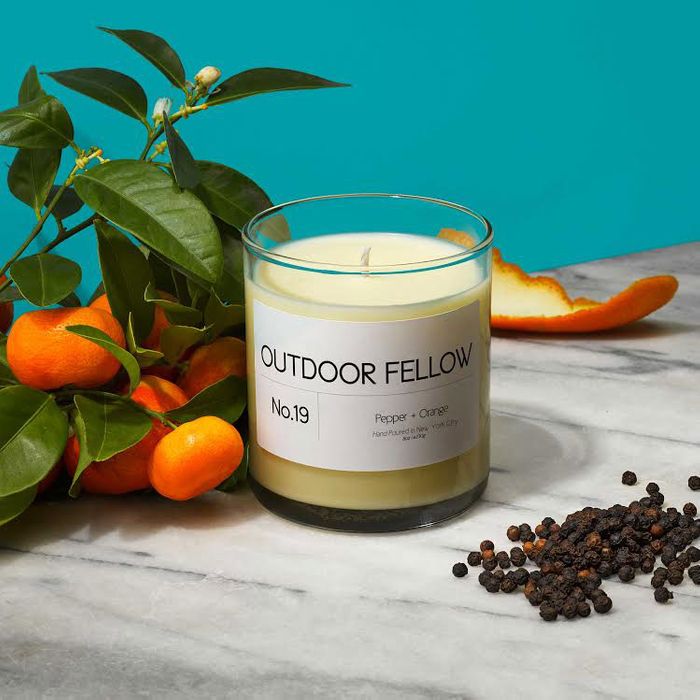 Photo Credit: Ryan Monaghan
Photo: Courtesy of brand.
Every candle is perfect for someone. The Perfect Candle is a weekly review of new candles that lets you know for whom, and why.
It's very hot outside. Though the extreme heat is typical for July, it feels particularly aggressive this year, just as it did last year, and the year before, and the year before that. It seems very rude. Why are you bothering me? Please leave me alone, heat; I'm only trying to get through the day in order to reach the teeth-grinding portion of the night in order to find the horror that will greet me upon waking up tomorrow. Please dip below 92 degrees, at least.
Still, we have to try to enjoy it. Wear a tank top. Have a piece of watermelon. Drink a frozen drink. Burn a candle. "Burn a candle?" Yes, burn a candle. Our candle burning can't cease simply because it is 105 degrees outside and our tank tops are soaked through with sweat and watermelon juice and condensation from the frozen drink. The candle is not going to make the air any hotter — if chosen correctly, it's just going to make your surroundings smell a little more festive. Like if you burned this candle here: Outdoor Fellow's "Pepper + Orange."
Outdoor Fellow is a new New York City–based candle brand that, according to Outdoor Fellow, its founder Patrick Jones started "because he was stuck in the city one weekend wishing he could be out in the woods enjoying the sounds, sights and smells it has to offer." That's like me right now! A pampered version of "the woods" would be preferred, of course — no bugs, a baby pool for my dog, a regular pool for me, a large cabin that someone else is paying for, etc. — but I'd love to sit on a deck with wine looking at trees. Anyway this is how Outdoor Fellow describes this candle:
This candle is one of our favorites. Sandalwood, Black Pepper and Orange combine to create a sweet yet savory smell that gets more invigorating as it burns. 
One of their favorites? Well, that certainly sounds good. But is it? Let's see.
Is the candle good?
Yeah, I like it. It's bright and citrusy, but kind of funky and a little weird. Like a savory Orange Julius, if you can imagine. It's definitely a candle that a store would have burning and you'd walk in and think, "This smells good." And then you'd accidentally spend $50 on it and get home think, like — "Damn, I really did not mean to spend that much money today. Did I really need this candle?" And you didn't. But, you know. C'est la vie.
Also I love the Outdoor Fellow logo.
How much does it cost, and how long will it last?
It is $48 and I do not know how long it lasts — this information is not provided on the website. It's eight ounces, though, if that helps you. Maybe like 30 hours? Burn times always seem like lies to me, anyway. Like everything in life, a candle's duration is generally just: too short if you like it, too long if you don't like it.
When should you burn this candle?
When you get home from work on a 93-degree summer day and your apartment smells musty and warm and you turn on your air conditioner and change into your "indoor summer" look, which is underwear and a tank top, and grab a summer beer, like a Corona with a lime, and you sit in the dark until you've stopped perspiring and feel like you can move again. By that time the air will be pleasantly funky-citrus tinged, mingling with your sweat and the musty warm smell of your apartment.
Who should buy this candle?
Someone who read the description "savory Orange Julius" and thought, "I'd love the air around me to smell like that, particularly on a warm summer night."
If you buy something through our links, New York may earn an affiliate commission.