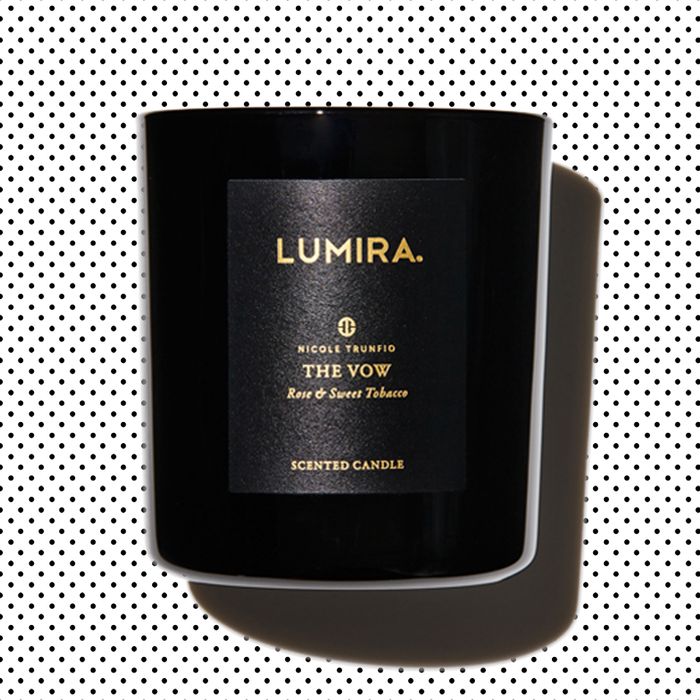 Photo: Courtesy of brand.
Every candle is perfect for someone. The Perfect Candle is a weekly review of new candles that lets you know for whom, and why.
To honor the Cut's Totally Soaked week, which comes to a close today, I'd like to highlight one of the hornier candles I've come across professionally. Please don't blush. It's perfectly natural for a candle to be horny; you needn't feel uncomfortable around its desire, nor yours while in its presence. Unless you're horny for the candle, which could be tricky. Or, actually — I guess I don't want to judge. Just be careful.
The candle is Lumira's "The Vow" candle, which I know calls to mind both marriage and celibacy but I'd like you to put that aside for the duration of the review. The scent is a collaboration between model Nicole Trunfio and candle-and-fragrance house Lumira, styled LUMIRA, but with which I will take poetic license and style regular. As you can see, the vessel is black with gold print, which is very hot. It has top notes of "citrus, lemon, grapefruit, raspberry, plum," mid notes of "floral, rose, jasmine, magnolia," and base notes of "sandalwood, sweet tobacco, patchouli, musk." Here's how Lumira describes it:
The Vow by Nicole Trunfio, a collaboration with LUMIRA, is a sensual blend of rose, magnolia, sandalwood and tobacco lightened by a citrusy lemon and grapefruit. Deep floral notes combine with a delicate woody spice transforming any space into a relaxing sanctuary.
Damn, floral notes combining with a delicate woody spice and transforming any space into a relaxing sanctuary? That sounds pretty good. But is it?
Is the candle good?
It is! I like it. The candle's scent is also offered as a personal fragrance, which is not exactly uncommon for candles from brands that also make perfume (or moisturizers, or whatever) but it's usually less, ah, appropriate. This candle smells very much like a personal fragrance, is what I'm saying. When you burn it, it smells like you invited a fancy, rich woman over and she's wearing too much of her nice perfume, but you don't mind because at least you're in an apartment and not a smaller enclosed space like a car or elevator. You know? It smells very much like a rich friend who has lost some of her sense of smell presumably due to, not that we're judging or gossiping, excessive cocaine usage.
The scent is woodsy and the rose element is perfume-y but not soapy, and each is cut by the freshness of the citrus. (It doesn't smell particularly citrusy, though, just a little light.) It's good, particularly if you like something that's a little rose-y and a little wood-y and if you want a candle that smells like perfume for lighting to entice a mate.
How much does it cost, and how long will it last?
It costs $65, and it'll last 80 hours.
When should you burn this candle?
You should burn this candle when you want to feel romantic with a partner, or (!) when you want to feel romantic with yourself. Sometimes it's just nice to light a romantic candle and take a bath, or swish around in a chemise. Have a cocktail, read a book. It's nice to be alone. However also you should burn this candle if you want to fuck.
Who should buy this candle?
Fancy romantics who want to set a mood, or anyone who wants to imagine their home is haunted by the spirit of a wealthy woman and all that comes through to the other side is her signature scent.
If you buy something through our links, New York may earn an affiliate commission.