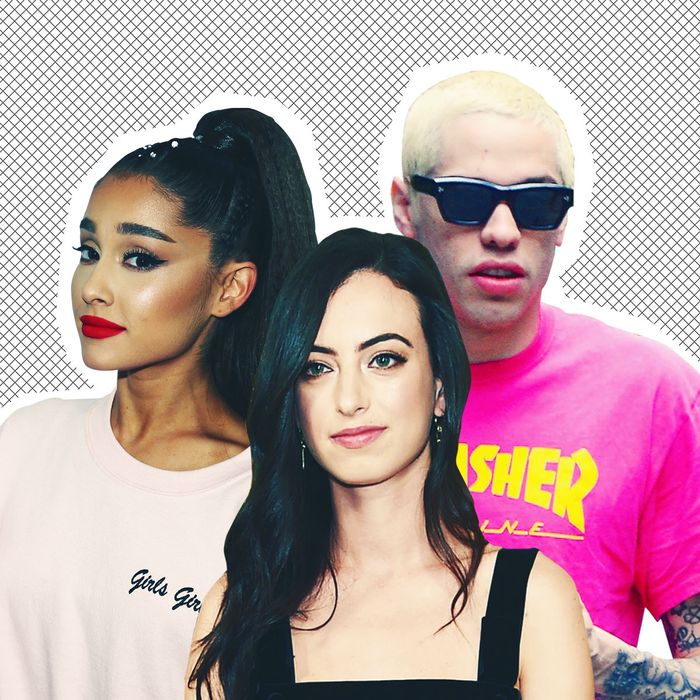 Ariana Grande, Cazzie David, Pete Davidson.
Photo: Getty Images
Ariana Grande was spotted wearing a necklace with a firefighter logo featuring 8414 — her fiancé Pete Davidson's father's firefighter badge number. Davidson's father died in 9/11. It's a very sweet gesture honoring Davidson's late father, much like her new tattoo.
However, eagle-eyed fans and #TeamCazzie stans noticed that Davidson's ex Cazzie David had worn a very similar necklace back in December 2017. Below, the photo Davidson shared of Grande wearing the necklace, and David's photo of herself on vacation.
Davidson replied to some fan's comments, saying that David's necklace was actually a replica that he had made. He had given replicas to many important people in his life, including David.
"[M]y sister and grandpa also have one," Davidson wrote. "[T]he one that ari has is the one my dad actually died in and the one [he] wore his entire career and the one i've worn for 17 years. i've actually never taken it off other than for snl or work. so it means a lot of me. hope this helps. please learn to be nicer and not to assume the worst in people. it's a terrible way to live. much love."
Davidson also replied to a fan who said that Grande wearing his late father's badge was "disrespectful." He defended his gift and said, "I gave it to her because she has my heart and that is the most precious thing I own. my dad would be so happy and love her so much."
Poor Davidson just wanted to give his fiancée a gift. Leave him alone!!