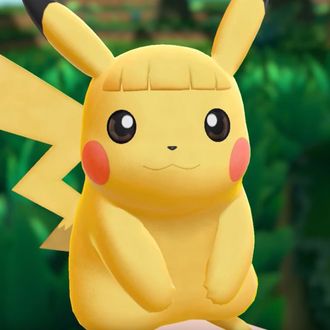 There are several rites of passage every girl encounters on her path to womanhood: Her first period, her first bra, her first heartbreak, and of course, the very first time she tries to pull off bangs. The "Should I get bangs?" club welcomes its newest member, Pikachu, who recently debuted a new blunt row of baby bang fringe. The internet is less than thrilled.
There's a lot going on in the world, but I need to know: Pikachu, what happened? Did someone cast you aside after a few weeks with a dismissive "I just need to focus on myself" text? Did you flub a presentation at work and need to feel in control of something, anything? Girl, we've all been there. Pour yourself a glass of wine and look for some cute new hair clips on Amazon. Join the other famous members of the questionable bangs club, like Emma Watson, Kerry Washington, and Beyoncé Knowles.
Pikachu has been a pop-culture mainstay since 1996, and as a child of the bang-heavy '90s, it is impressive that she was able to wait 22 years before succumbing to the lure of a forehead-obscuring fringe. Don't worry Pikachu: everything is going to be alright, I promise. Just don't let Ash convince you to do any of those at-home bang trims.