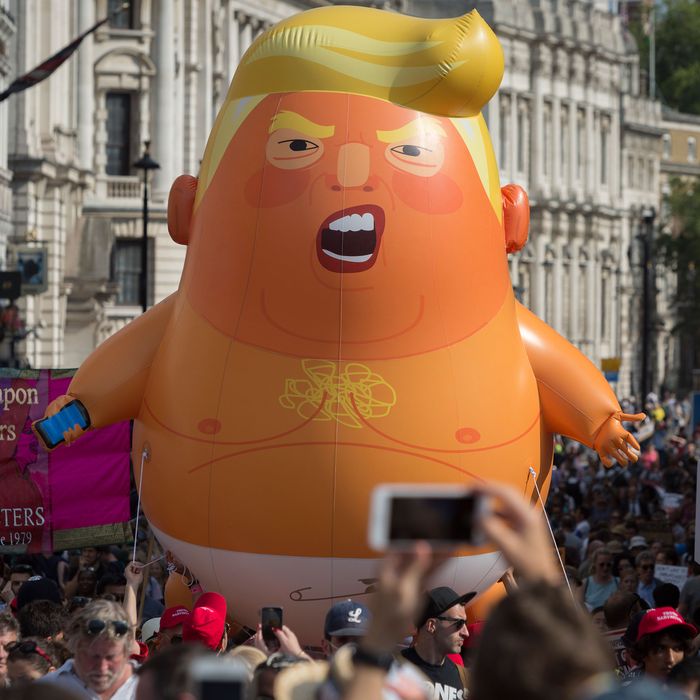 Photo: Richard Baker/In Pictures via Getty Images
Earlier this month, a disturbing 19-foot blimp of adult-baby Donald Trump wearing a diaper flew over the Parliament Square Gardens in London for two hours during a massive march in opposition of the president's visit to England. Now activist and social worker Didier Jiminez-Castro is bringing the blimp stateside. Its first stop? The president's "summer White House," otherwise known as Trump National Golf Club in Bedminster, New Jersey.
Jiminez-Castro, a New Jersey resident, reached out to the balloon manufacturer immediately after seeing how much support Baby Trump got in the U.K., with a petition in favor of it accruing over 10,000 signatures, and official approval from mayor Sadiq Khan. Started on July 13, Jiminez-Castro's GoFundme raised $4,500 in a matter of 22 hours, according to People. As of this afternoon, the page had raised over $9,000.
Grassroots organization People's Motorcade, who frequently protest outside of Trump's club when he's in town, will assist the balloon's launch as soon as mid-August. The satirical blimp will eventually make appearances in New York City, Philadelphia, and along the east coast. Baby Trump's journey can be followed on Facebook and Twitter.
"The Baby Trump is not just a piece of humor, but it is also a symbol of the administration. It's symbolic of the children that are in cages, it's a symbol of racism — and we know that he hates to be ridiculed," Jimenez-Castro said of his campaign.