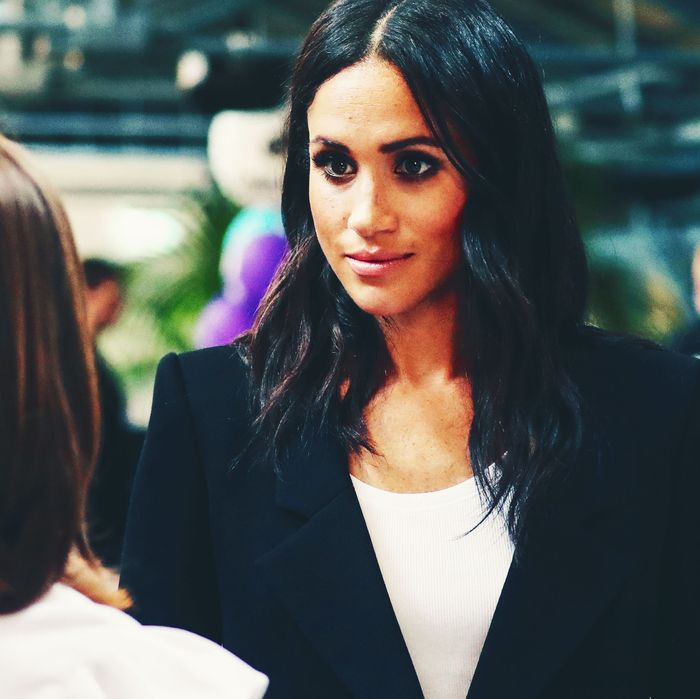 Meghan Markle.
Photo: John Rainford/Getty Images
Meghan Markle is known for stretching a few of the royal rules, especially when it comes to her personal style. She's also known for wearing suits before she became the Duchess of Sussex. But for now, sadly, Prince Harry has reportedly stopped her from wearing a tuxedo to a formal event in Australia.
According to the Daily Mail, Markle wanted to wear a Stella McCartney tuxedo-style suit to an evening event on their Australian tour. Prince Harry, a lifelong royal, said no. It's understood that the queen prefers women to wear skirts instead of pants (except for jodhpurs which are okay). It is also known that Harry likes to give Markle little fashion tips.
A source who was visiting the palace with one of the fashion teams told the Daily Mail, "Meghan is being told she needs to stop dressing like a Hollywood star and start dressing like a Royal." However, Markle wouldn't have been the first royal to wear a tuxedo-inspired suit. Princess Diana favored the silhouette and wore many different suits throughout her time as a royal — she even wore a red bow tie and a green vest on two regrettable occasions.