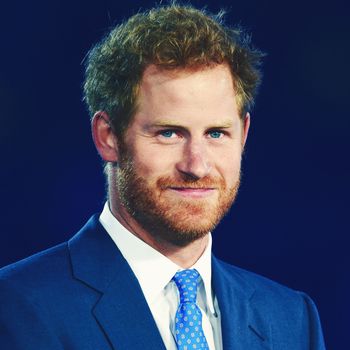 Prince Harry.
Photo: Karwai Tang/WireImage
On Monday, Prince Louis — the 2-month-old son of Prince William and Kate Middleton – will be christened in a religious ceremony. In the meantime, new details about the very Taurus baby have emerged, including information about a very thoughtful and expensive from present his uncle, Prince Harry.
According to the Sun, Prince Harry threw down £8,000 (or around $10,600) on a present to honor Prince Louis's christening day. The fifth in line to the throne received a first edition Winnie the Pooh book from his uncle (and also presumably from his British-sounding aunt, Meghan Markle). The royal ginger (Prince Harry) purchased the 1926 first edition of the A.A. Milne book from the rare-bookseller Peter Harrington in Kensington, London. Only 30,000 were printed in the first run of the book.
The fancy gift is apparently a tribute to the late Princess Diana. A "friend" (???) of the prince told the Sun:
 One of Harry's happiest childhood memories was being read a bedtime story by his mother. She loved all the old classics and Harry had the brilliant idea of starting a little library of first editions for Louis, Charlotte and George to enjoy as they get older.
The prince-uncle reportedly originally wanted to purchase a copy of Lewis Carroll's Through the Looking Glass, but because that book was going for £24,000 (which is more than $32,000), Prince Harry opted for the more "suitable" Winnie the Pooh.
It's unclear which, if any, first-edition books Prince Harry bought for the christenings of the other royal babies (Prince George and Princess Charlotte), but we assume the books were just as expensive.