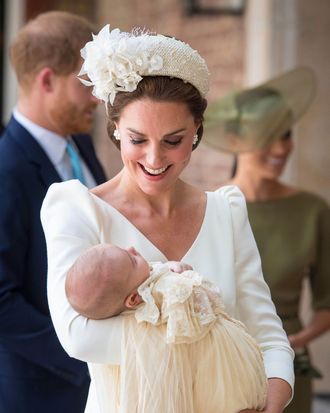 Kate Middleton and Prince Louis.
Photo: Dominic Lipinski/AP/REX/Shutterstock
Prince Louis has to be one of the most elusive members of the British royal family at the moment. In the two months he's been alive, we've only seen him twice — first, after he was leaving this hospital with his parents (Kate Middleton and Prince William) the day he was born, and then again when his mom released some pics she took of him. But now, that baby is finally back in the public eye — this time, for his christening.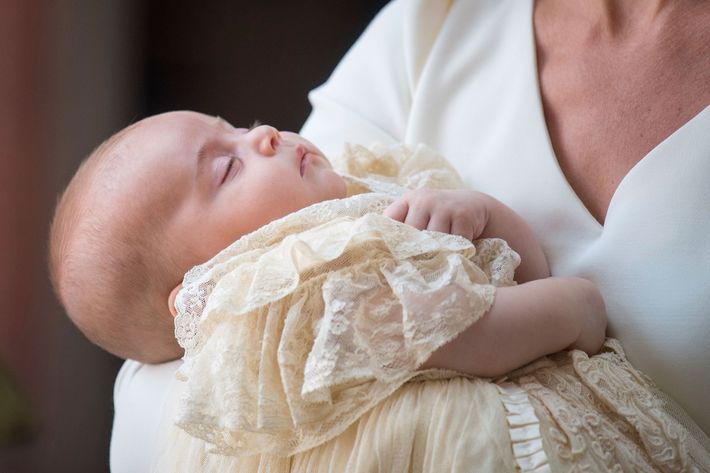 On Monday, the mysterious infant (who rudely did not attend his dad's recent polo match with his siblings, Prince George and Princess Charlotte) appeared at the Chapel Royal at St. James's Palace, London. Prince Louis was escorted into the chapel in his mother's arms — presumably because he cannot yet walk as he is, as previously stated, a baby — alongside the rest of his royal family (including his doting uncle Prince Harry and aunt Meghan Markle).
Look, here he is being led into the church like a dang prince (which he is, so it makes sense):
After his grand entrance, some hymns ensued, his hundreds of godparents showed their support of him (well, there's only six of them, but that still seems like a lot in my opinion) and then that baby was baptized into the Church of England. Fun fact: His aunt Meghan was also recently baptized into that church (shortly before her royal wedding, as you do), so I'm sure she and Prince Louis had a lot to talk about after the ceremony!