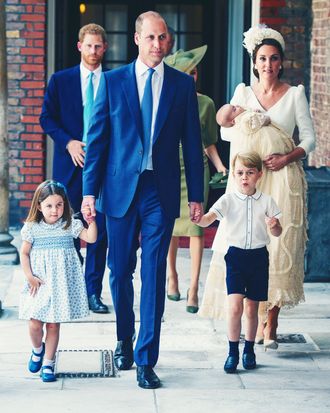 Princess Charlotte, Prince William, Prince George, Kate Middleton and Prince Louis.
Photo: REX/Shutterstock
While we were all certainly thrilled that Prince Louis, a baby, finally decided to grace us with his presence at his christening on Monday, we have to admit that the 2-month-old infant's royal siblings — Prince George and Princess Charlotte, naturally — once again stole the show.
As you'll recall, on the day Prince Louis was born (which, again, was only a little over two months ago), you'd think everyone would have been obsessed with the newborn baby. But instead, we were all so taken with the adorable antics of his older brother and sister — to the degree that the photographers at the hospital let out an audible and collective "awwww," and videos of Princess Charlotte adorably waving to the crowd were quickly shared all over social media.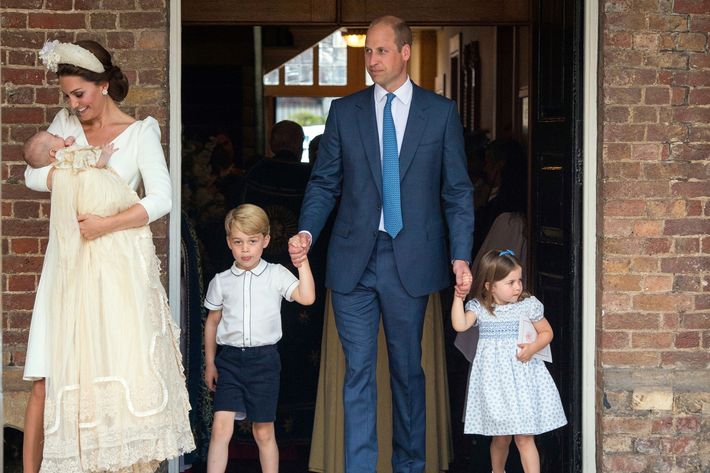 So understandably, the same thing happened again at Chapel Royal at St. James's Palace in London for the royal christening. It was nice to see the sweet Prince Louis and, erm, we wish him all the best in his religious pursuits, but Princess Charlotte and Prince George were simply too cute to ignore.
When the new family of five (hi, Kate Middleton and Prince William!) arrived at the chapel, the young prince and princess were on their best behavior. They entered the premises on either side of their father, then they both adorably shook hands with the church officials present, and quietly took in the scene with their hands in their mouths, as they are children.
After the baptism, the cute family emerged from the chapel — and Princess Charlotte gave one of her trademark waves again.
Sorry, Prince Louis!