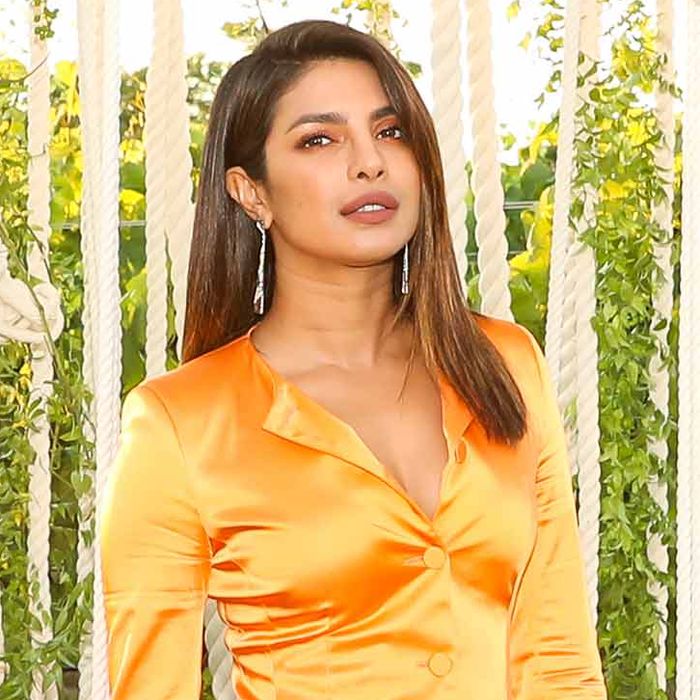 Priyanka Chopra.
Photo: Neil Rasmus/BFA for Saks Fifth Avenue
Priyanka Chopra is good at parties. Last night, the actress hosted a summer dinner party in the luxurious, sustainable Wölffer Estate Vineyard in the Hamptons, with Vogue and Saks Fifth Avenue. The dinner tables were just past rows of budding vines, under clear blue skies that Chopra surely had called in specially.
Like any good party that takes place in 2018, there was an installation made for Instagram. Saks and Vogue had created one with three swings specifically for the event, covered in white rope and vines. It was there that Chopra wanted to speak with guests, fans, and the Cut. While gently rocking back and forth, Chopra mused with us about the past year, parties she loved, and women she admires.
She was one of the few Hollywood commoners to attend the royal wedding (she's a close friend of Meghan Markle, a.k.a. the duchess of Sussex). The details of the reception are on strict lockdown, but Chopra said it was a great party. "Recently, the best party I went to is Meghan's wedding and her reception party," she said. "I can't [tell details] but I can say that it was a bunch of people having a great time. It went on to really late at night but it was just such fun people." SNL sketch imitates life?
Chopra had flown in for the dinner party in the Hamptons, and had previously been trying to get to the U.K. by Saturday to see Serena Williams play in Wimbledon this weekend. ("I mean, she has to win. She has to win.") But it's not all jet-setting: She also spoke excitedly about her next project, a memoir titled Unfinished. Chopra, who describes herself as "private," is planning on being "brutally honest" in the book. "It's my personality, fun rebellious, bold, and provocative. But at the same time, I want whoever reads it to be like, Oh I can do this too. It's hard, it's not easy to be in entertainment."
Too soon, swing time was over and it was time to sit down for a meal prepared by Blue Hill and farm-to-table pioneer Dan Barber. Chopra, standing out in a tangerine silk suit among all the floral dresses, fulfilled her own rules for a good party: loud laughter, good wine, and maybe a little bit of dancing.