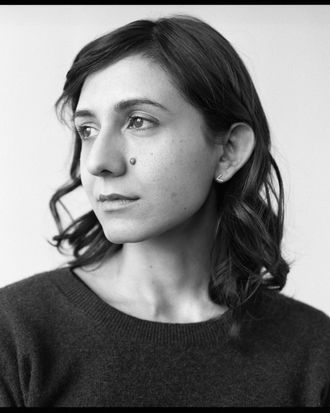 Photo: © Brigitte Lacombe
The clothes Ottessa Moshfegh wore to meet me — to drink water in shitty hotel lobbies in California and New York — were practical and cheap, the kind of miscellaneous cotton garments you find discarded on stoops in Park Slope. Traveler's clothes from the '90s. Black flip-flops and a cotton sundress in Palm Springs. Jeans, a T-shirt, and sneakers in midtown. No labels or makeup.
The protagonist in her first Paris Review story, published when she was 31, mused, "Makeup made a girl look so desperate. People were so dishonest with their clothes and personalities."
She told me she doesn't give a shit about what she wears now, which made me feel gauche for wearing a white blazer in the desert, though it was linen. But I should have been prepared. I had read that Helen of Troy was her least favorite fictional character. That she'd taped a piece of paper that said VANITY IS THE ENEMY to her window. I wanted to know if it was still there.
"Yeah, although it's really faded now." She smiles without teeth.
Moshfegh doesn't like playing games. Living in New York in her 20s? "A sex game with no content." Dating? "An animal game like putting on a mask to go out and attract a mate." Even listening to the radio turns into "a game of listening to, like, really bad hip-hop until I feel disgusted with myself. And then I'll switch to NPR, like, classical, until I'm disgusted with myself again."
It's not so odd a stance for someone like Moshfegh to adopt. She has a winner's mien. She believes herself to be "exceptional," and expects her life to be "amazing." She doesn't like being compared to other people.
By the end of her 20s, she decided if she had to play games, they might as well be for higher stakes. Why play pickup games with men, when you can win literary prizes? She left New York — the city where she spent most of her 20s — and applied to an MFA program from her mother's house. (She spent the next few years making money buying and selling used clothes from the 1920s through '80s. Mostly "tea dresses.") Moshfegh graduated from Brown at 30 years old, in 2011, armed with a novella, a desire to write short stories, and, soon thereafter, an opportunity to continue her ascetic solitude in the hallowed halls of academia: a two-year writing fellowship to Stanford. In five short years, she's handily published four books to steadily rising acclaim. Her MFA project, McGlue (2014), was published after being selected by a blind jury for the first-ever Fence Modern Prize in Prose. Her second novel, Eileen (2015), would go on to win the PEN/Hemingway Award, and sit on the short lists of the National Book Critics Circle Award and the Man Booker Prize. She sold the film rights, and, soon thereafter, a short-story collection largely comprising work published in The Paris Review.
Her third novel, My Year of Rest and Relaxation, came out this month. The book cements her reputation as a pioneer of a new genre of slacker fiction. It's an amusing subject for such a workaholic — but her work tellingly avoids the pathetic preening of Zeno's Conscience or the thorny striving of Sentimental Education. Like Mary Gaitskill, she likes characters who fancy themselves intellectually superior, infusing them with contempt for the stupidity of others and the passive iniquities of modern life. Her creations are pretty bitchy. (Until recently, they were also all hovering above the poverty line.) "You're needy," says the protagonist, blandly, in Moshfegh's new novel. "Sounds frustrating." She's talking to her so-called best friend.
A few pages later: "'Don't be a spaz,' I said when her mother's cancer spread to her brain."
The week the Booker short list was announced, in September of 2016, Moshfegh gave the kind of candid interview that keeps publicists in business. "I'm smart and talented and motivated and disciplined and … talented. Did I say that already?" She told the reporter she wrote Eileen to show everyone "how easy [it] is" to write a best-selling work of commercial fiction, like all the other "morons." Sick of the ill pay for short stories, "I thought, fine: I'll play this game. And I still feel like I'm playing it."
She has since acknowledged that saying she started drafting Eileen using the rudimentary outline provided by The 90-Day Novel probably hurt her chances of winning. "That Guardian interview made it sound like I just filled in the blanks and got lucky." She lost to Paul Beatty. Moshfegh's bravado — well-documented in print — can ring as off-key, or aspirational in the feminist sense, depending on your ear. ("I have an unflappable belief that my future is bright and that I'm blessed and that even having to be in some nursing facility would be a beautiful experience for me," she told an interviewer.)
Three months after the Guardian interview, she accepted another with a writer and UC Riverside lecturer named Luke Goebel. When they spoke, she was blunt about writing as her calling. "I'm not going to be making cappuccinos. I'm fucking brilliant! I don't know what people expect me to do." And frank about her mental fitness. "I'm the most self-assured person I've ever met, very arrogant at times, sure. I can't make a wrong move. I know what I'm doing." Clearly.
A few weeks later the lecturer went home for Christmas and demanded his grandmother's wedding ring. He and Moshfegh are still engaged. (The diamond ring — with three diamonds in a row — is incongruous against her person, the only overtly material thing I associate with her, besides her recently purchased BMW.) You might say the most incongruous thing is that she's happy in love. A typical response to questions about her love life in interviews, prior to their engagement, was, "I'm in a place where I just accept that romance is a delusion and that most men are boring and childish."
The spontaneity of "his brilliance" appeals to her. "He didn't go through, like, the same, like, narrow channel of, like, intellectual training that I did. So he's like arrived at all of his genius on his own." (I routinely forget to think about Ottessa as someone with rigorous academic training, if only because her characters seem to eschew it.) Talking about his looks, I almost forget I'm not talking to someone silly.
"He's like really tall. Super, super handsome. Like, a little too handsome. Um."
Too handsome for your taste?
"I mean, like, for my comfort. Like, sometimes, like, he uses the gym … I'm like, Just don't let anyone talk to you." She laughs. "Cause he's a total stud. I mean, in my opinion."
It makes sense to date a stud in the West, I say.
"Yeah." She nods, smiling, and asks if I couldn't transcribe what she said, so he can see it.
Her confidence reads differently in person than in print media. Moshfegh is too clever to be a braggart, and anyway she doesn't talk with the motivations of a storyteller. In fact, she inveigled me to nothing, which has always made me feel a bit insecure around her. I suspect she does not care so much what journalists think. Kristine McKenna — a writer known for interviewing egomaniacs like Orson Welles — told Moshfegh she isn't "afflicted with a lot of the same ego needs that other people have." In other words, she can self-pollinate, like a plant. She's a sober workaholic. An outlier. ("Outlier" is also the word she used when describing her parents to me, two classical musicians who fled the Iranian Revolution, and settled in the Boston suburb of Newton.)
Moshfegh strikes me, above all else, as impish. It's an attractive quality in someone so self-assured. To be fair, this only occurred to me after she drove me, quite expertly, around the California desert in her white convertible, her thighs barely grazing the red leather interiors. It doesn't hurt that she's lean, small, and keeps her hair unstyled, like a child who doesn't brush out her curls. Perhaps it's the mole set off against her Persian features — halfway between a beauty mark and a witch's mark.
I write and ask if she's always had it — I had read there's a 1 in 100 chance of being born with a mole on your face. We agree it's a fact designed to be included in a profile. She calls her dad, who confirms she was born with it, though it was "very small." She emails back.
"I wish the chances were one in a million. THEN I'd feel special … lol."
There is something unusual, and alluring, about Moshfegh, and it's refreshing that her particular brand of confidence isn't hog-tied to any public precociousness. (She's really the opposite of insufferable in person.) It would be incorrect to characterize her rise as meteoric. Moshfegh turned 37 in May. She has found success as an adult; she wasn't Zadie Smith writing White Teeth as an undergraduate at Cambridge. Despite skipping eighth grade and competing as a pianist, Moshfegh was wait-listed at Columbia.
At Barnard, in 1999, Moshfegh enrolled in the writer Mary Gordon's fiction workshop. Out of the gate, Moshfegh shared a short story where her protagonist watches an odometer in a car, waiting for it to roll over from 99,999 miles to 100,000 while losing her virginity. The writer Amie Barrodale, also in the seminar, remembers feeling intimidated by Moshfegh. "I was a 24-year-old senior who couldn't ever graduate, and living off campus in Greenpoint, an hour away by train," remembers Barrodale. "Ottessa was a 17-year-old freshman." The story made her tear up. The respect was mutual; Moshfegh singled out Barrodale after class to compliment her story, and they became immediate friends. At the end of the semester, Moshfegh remembers her professor saying, "I think you're great, but I don't know what's gonna happen to you." It didn't bother her. She didn't know either. (Over a decade later, both students would win the coveted Plimpton Prize for their first Paris Review story. Barrodale first, in 2011, when she was 35.)
A year after graduating, tired of teaching high-school math at a Catholic school in the East Village and living in an apartment that cost more than her monthly salary, Moshfegh moved with her boyfriend, a musician, to a large city in Central China. They found jobs on the internet teaching at a private university. They started a punk club. She pitched in at the bar, and helped book local punk bands. It was a bit bleak, physically and psychologically. The electricity sucked, and she spent a lot of nights wrapped in a soaked bedsheet on the floor, trying to stay cool. She wrote of that time: "In addition to cigarettes and alcohol, I was subsisting on a daily diet of one melon slice and four hours of exercise." In an interview with the Atlantic she said, "I spent a lot of years in an anorexic and bulimic blackout." They broke up, she sold her share in the bar, and moved back to New York, into a "half bedroom" in Williamsburg. She got sober at 25.
Addiction — all appetites actually — are a big theme in her work. McGlue (2014), her debut novella, was written from the perspective of an alcoholic sailor on trial for a murder he can't remember. Eileen (2016) is a neo-noir novel about a homely girl desperate to escape her stifling small town and alcoholic father. Drugs and whiskey factor heavily in helping the protagonists of her short stories manage their dissatisfactions.
My Year of Rest and Relaxation is, rather offhandedly, a 9/11 book. Like Claire Messud's The Emperor's Children — a success story for the genre — the plot hinges on the idea that rich kids need a catalyst to wake up to reality. Moshfegh's take is unconventionally morbid. A disenfranchised hot blonde girl with a trust fund self-medicates to the point of blackout in the hopes of changing her life in her sleep. Like all of Moshfegh's protagonists, the unnamed protagonist does little to inspire envy. The book seems like a departure from her early work only to the extent that her protagonist has not made a métier out of being ugly and poor. This was intentional.
"After I wrote Eileen I just got so sick of everybody saying how gross and ugly she was. And I was like, well, would you say that if she looks like a model? So I was like, fuck you! I'll write a book about a woman that looks like a model. Try to tell me she's disgusting! And that just proves you're a misogynist."
It's pretty good for a book where the narrator is asleep for half the plot. This is ripe ground for Moshfegh. In her fictional worlds, the opportunity to change your life is often a devil's bargain — one that's worth the risk. The protagonist of My Year of Rest and Relaxation meets a rich artist in one of her half-hearted blackouts, and gives him carte blanche to cast her as his unwitting muse, manipulating her body while she's passed out for the rest of the year. (He has her keys.) In Eileen, the protagonist's life is changed overnight by the sudden appearance of a sophisticated and worldly mystery woman who alights on the town to commit murder. ("I sensed it immediately. My life was about to change. In this strange creature, I'd met my match, my kindred spirit, my ally," Eileen explains.)
Moshfegh's life has only been as dramatic as non-fiction allows, but, not unlike her recent characters, the unexpected appearance of a sophisticated, worldly white woman has been significant. This wasn't totally random. "For a long time I was like, well, the best thing to identify with is rich white people, and so I totally aligned myself with rich white people," she once told Vice. After her stint in China, Moshfegh reverted to a more traditional path for a Barnard English major. She got a job in the production department at Overlook Press, working for Peter Mayer — an office chain-smoker and literary lion who passed away in May. Her roommate was doing a similar job for Ben Sonnenberg, founder of the literary magazine Grand Street. In 2007, she set Moshfegh up with an interview with Jean Stein — the oral historian and heiress who took over Grand Street and required an assistant.
Stein lived at the particularly tony co-op 10 Gracie Square, in the truly palatial North Tower. (It's one of the 42 residences Tom Wolfe deemed the only "Good Buildings" in New York.) Moshfegh got out of the private elevator on the top floor, and effectively changed the course of her life forever, within minutes. Such was Stein's style.
I can corroborate this myself. Even in 2015, assisting Stein was a coveted job, envied by my friends working for Bob Silvers at the New York Review of Books. Stein hired me, when I was 25 years old and a Barnard dropout, after asking one breathy question. "So! So. Where are you from?" (I'm from rural Montana, thank god.) Once that was settled, we had lunch on her terrace overlooking the East River, where she ate melon wrapped in prosciutto. I remember trying very hard not to gape at her apartment, and her cook asking if I wanted veal.
"I seem to be attracted to going into the elitist zones, and then, like, farting, and like walking out" is how Moshfegh describes the year she spent at an all-girls middle school. It's quite remarkable, as a pattern. In her first year working for Stein, she came down with cat-scratch fever.
"It was so weird. I don't remember a lot of it," she explained. I had to quit [Jean's]. Like, I quit via fax."
Oh my god.
"I felt really bad, but I was losing my mind."
The disease seemed so unbelievable, she had her doctor write Stein a letter confirming she had cat-scratch fever. "This is how scared I was of, like, leaving Jean." She asked the cook if Stein would hate her forever.
She moved back in with her mother, where she ended up applying to an MFA program while on a yearlong bed rest. She stayed in touch with Stein. After receiving her MFA from Brown, Moshfegh sent her sent a copy of McGlue. Stein was enthusiastic, so much so that her love of the book — at least from my point of view, as the storyteller — cemented Stein's role as a fairy godmother in Moshfegh's life.
Stein was uniquely positioned to understand the artistic temperament. She didn't take Moshfegh's abrupt departure personally. Born with a pedigree in a time when pedigrees got you into drawing rooms, Stein befriended Faulkner at 19, and nearly every literary great afterward, from Tennessee Williams to William Vollmann. She knew talent. Which is why Stein quickly sent the unpublished manuscript for McGlue to Bill Clegg, who would become Moshfegh's literary agent. ("Soon after, and having nothing to do with me, it was chosen by Rivka Galchen as the winner of the Fence Fiction Prize," he wrote me in an email.) It was Stein who gave the fiction editor of The New Yorker two of Moshfegh's unpublished stories. (Deborah Treisman remembers Jean bringing "printouts to dinner.") It was Jean Stein who got those same two stories to The Paris Review, after attaching them in a two-sentence email to then-editor Lorin Stein. ("One of the only emails I've ever gotten from Jean, whom I have met four times in my life, once to interview to be her assistant.") And Jean Stein suggested that the woman who took her author photo, world-renowned photographer Brigitte Lacombe, take Moshfegh's portrait. Lacombe shot her in an elegant black-and-white, posed in stark profile. The beauty mark is front and center, highlighting her specialness, as if daring the viewer to think anyone else looks like Ottessa Moshfegh.
New York is still romanticized as a city that can hasten deus ex machina — any life can change if you run into the right person, and convince them to change your life. Harvard, or whatever, is said to get you a foot in the door, but after that you're on your own. It's a city that, incidentally, makes it hard to believe in destiny. The existence of Moshfegh could make a believer out of anyone—even herself:
I believe in fate. I think we give too much credit to the will and human intelligence. We arrive in this realm with a destiny we can't control. Sometimes we can convince ourselves that we have chosen our fate. When we are unconvinced, we take psych meds or seek therapists. We think we have Lyme disease… And that is why I feel lucky to be who I am: I do what I want, and the universe seems to be conspiring to get me to keep doing it.
Moshfegh's work — her raw talent — speaks for itself. (Stein, for the record, never sent my stories to anyone.) She didn't send any of those emails, or stories to slush piles; she left publishing-centric New York. Her first book was chosen by a blind jury while she was living in Oakland. Tellingly, she's refused to let a photo of herself grace any of her book jackets. She's not going to play any of those games.
People with fixed destinies don't have to.