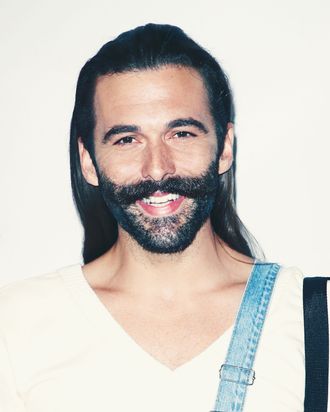 Jonathan Van Ness.
Photo: David Livingston/Getty Images
Queer Eye's grooming expert Jonathan Van Ness has become a breakout star for his endearingly outspoken nature, his vivid one-liners (he calls one subject's curly mop "Bob Ross realism"), and his unwavering belief that taking care of yourself can be a sign of self-love and respect for your partner. Van Ness is currently shooting season three in Kansas City, Missouri, but he took some time out to talk to the Cut about endorphins, Timothée Chalamet, and how washing his hair less has made it shinier.
There's a tension in beauty between seeing self-improvement as a positive thing versus forcing people to conform to some sort of impossible beauty standard. How do you think about that as the show's resident grooming person?
It's like this: When I run to Starbucks in the morning, I brush my teeth, floss, throw my hair up into a top knot, and it's fine. If someone texts, I'm here, come meet me, I don't worry about my look. Even after the show has come out, I'll go around being a big schleppy and having my day run away from me. That's amazing.
But I also want to to give people the knowledge of how to have a beautiful blow dry if you have 30 minutes. Or to know how to do DIY masks at home. It's about giving people information. It's not about using grooming knowledge as a club of shame. It's not, "You should be doing this or that." It's about changing the perception. Obviously, we want to accept and love ourselves, but there's nothing wrong with learning.
Emotions are chemicals in our brain. Your brain makes dopamine when you meet someone you like. Your brain makes cortisol when it's stressed. If giving yourself a fun new side part creates endorphins, then why not! You're doing it yourself. Don't let someone think you're not cute enough because you don't know how to do something. Never shame and empower with knowledge.
Some people call positivity your superpower. Do you feel like that's accurate? How do you do it?
I do. It's definitely one of my favorite things about myself. It's not just my positivity, it's my spirit. I don't know why I wake up at 6:30 in the morning after not getting seven to eight hours of sleep. I'm just kind of a positive person. When I was growing up, I felt trapped. I grew up a bit tortured. I was very bullied for how I acted. Now I feel it's been so fun living my adult life. I get to be myself.
You've had the opportunity to meet a lot of celebrities. Who would you say has fantastic hair in real life?
Everyone has super duper hair. Crazy duper amazing hair. I met Michelle Kwan two days ago. I loved her top knot. Her hair game is great. And remember Fields of Gold? I was just obsessed. I do all the moves on the carpet.
Have you heard about the trend of women cutting their hair like Timothée Chalamet?
I think that's beautiful. The thing that makes his haircut so attractive is that all the edges are soft. There's a lot of soft texture and detail. I love that cut — on both men and women
Your hair on the show practically glistens. How do you get it so shiny?
Not overwashing your hair gives it a nice shine. Washing your hair every day dulls it out. Silk pillowcases help keep it shiny. I also love this product by Wonder Worker by Shu Uemura. I put it in and let it air dry.
There are shine sprays, but I don't use a lot of them. If you struggle with dull hair, try finishing it up with one from Aveda (Aveda Brilliant Emollient Finishing Gloss) or Kevin Murphy Shimmer Shine. If you're a dude, try more water-based pomade as opposed to matte — it's more absorbent.
Has Antoni ever cooked for you?
All the time. He cooks for me at least one a week when we are shooting. He makes a lot of different things — gorgeous different pastas and clean stuff like chicken breasts and veggies. Also frittatas and smoothies. We work together and we're living in the same building.
Where do you shop?
A lot of ASOS, Billy Reid, All Saints, APC, Rick Schneider. I love Good American jeans — yes Khlo Khlo! I'm never an online clothes shopper. I hate trying things on but I have to touch everything before I buy.
If you buy something through our links, New York may earn an affiliate commission.