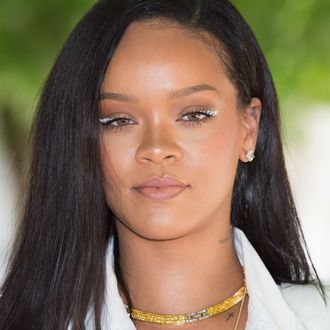 Rihanna.
Photo: Stephane Cardinale/Corbis via Getty Images
Prepare for the Rih-turn. Rihanna is currently at work on two albums: a reggae album, in addition to a new pop album. According to Rolling Stone, Rihanna's camp has eight songs, but is looking for one more to complete the album. There's a stacked roster of talent contributing to the reggae album: producer-writer duo R. City, Stephen "Di Genius" McGregor, Linton "TJ Records" White, producer-singer Ricky Blaze (Gyptian), Tyshane "Beam" Thompson, and even Skrillex and Boi-1da. (Safe to say Diplo has not been invited.) "[Rihanna's team] have, no lie, 500 records for this project [from] different producers and writers," an anonymous dancehall producer told Rolling Stone. "They're only choosing 10 records. They've been having writing camps and trying to keep them quiet for almost a year and a half now. I've been flying to Miami, flying to L.A., cutting records nonstop for this project."
The pop album is still in development, sources told the magazine. "Rihanna is Bajan, so let's make this a full project like that. To me, it hasn't been going that way. They're kind of mixing it up, putting in the pop," a producer said. "If the reggae artists and producers won't get the chance on the pop album, at least let us survive on the dancehall album. They're changing up the direction continuously." Rihanna did say her vibe for summer is "more is more," so … welcome to the Rih-venant!