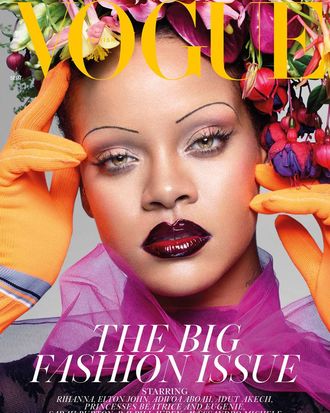 Rihanna on the September 2018 cover of
British
Vogue
.
Photo: Nick Knight/British Vogue
It's not even August yet, but the September fashion magazine covers are coming in hot. Yesterday, it was reported that Beyoncé will take over Vogue's next issue. And today, British Vogue revealed its September cover featuring Rihanna. Aren't we blessed?
This is Edward Enninful's first September issue since becoming editor-in-chief in April, and it's certainly the biggest, ringing in at 400 pages. "I was determined it would be something special," wrote Enninful with the announcement on Tuesday. He added that he "always knew it had to be Rihanna" on the cover. This makes her the first black woman in British Vogue's 102-year history to ever cover a September issue.
"No matter how haute the styling goes, or experimental the mood, you never lose [Rihanna] in the imagery," Enninful adds. "She is always Rihanna. There's a lesson for us all in that. Whichever way you choose to dress the new season, take a leaf out of her book and be yourself."
This is not the first time Enninful has worked with Rihanna on a September cover. (He styled her in September 2016 for W magazine.) But he did double duty this time by styling her for his own magazine's spread, which was photographed by Nick Knight.
On the cover, Rihanna wears a neon Prada tulle dress and gloves from the fall 2018 collection. Using Fenty beauty, of course, makeup artist Isamaya Ffrench penciled in Rihanna's eyebrows as elegant, thin lines, and covered her lips in a shade of deep purple. On her head rests a bouquet of flowers.
Inside the magazine, Rihanna wears bold, avant-garde designers like Noir Kei Ninomiya and Alexander McQueen. Other spreads in the issue include a visit to Elton John's home with Gucci designer Alessandro Michele, an homage to '90s rave culture, and the return of photographer David Sims.
"What could be more British than that?" writes Enninful.
The new British Vogue September issue hits newsstands August 3.