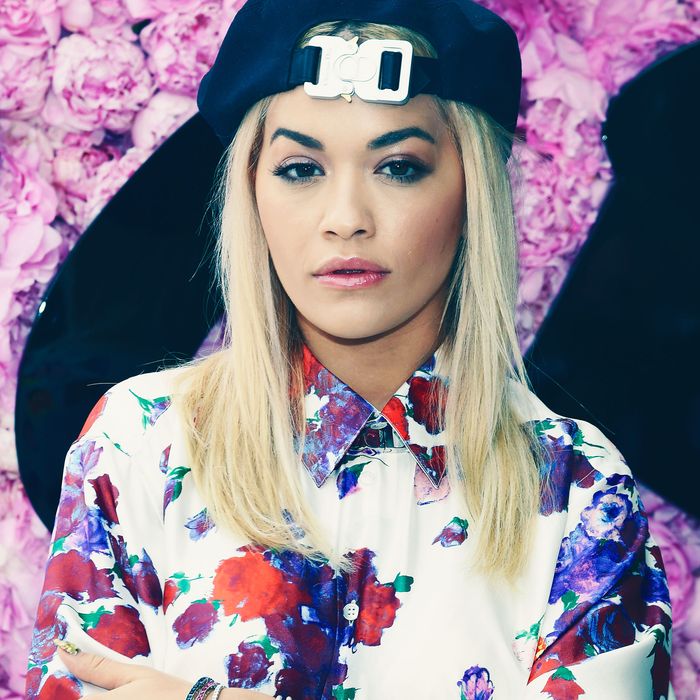 Photo: Pascal Le Segretain/Getty Images
Jack Torrance. Minnie Castevet. The demon from The Exorcist. The old man from the beginning of Peter Rabbit (2018) whom the rabbits kill by accident. Cinema has hosted a number of terrific horror icons, but its past is simply that — its past. And its future? Well, let's se — BOO! Sorry, just trying to set the mood. It's futur — BOO! Sorry. Horror cinema's future? If Rita Ora has any say in the matter, it's Rita Ora.
Rita Ora, perennial Who? and sometimes-actor (she portrayed Mia Grey in the Fifty Shades of Grey franchise), spoke with the Daily Mail recently about her future acting aspirations. "I love acting," she said, of acting. "Acting is pretty much like a performance too!"
Indeed it is.
As for what she'd like to do, Ora told the Mail that she'd "love to do a horror movie." Ah yes, as would I. But what would this look like? Maybe these:
•Rita Ora chasing sexy teenagers through the woods with an axe.
•Rita Ora is a demon possessing a child.
•Rita Ora is a musician but all of her songs kill you (!).
•Rita Ora is a caretaker at a hotel during the wintertime.
•Rita Ora talks to a bartender in the mirror.
•Rita Ora sees a young lady in the bath, but then it's an old lady and actually she's dead.
•Rita Ora types on typewriter "all work and no play makes Rita Ora a dull girl."
•Rita Ora's son talks to his finger and he is so cute, he also rides a tricycle down the hallway real fast.
•Rita Ora bursts through a bathroom door and says "heeeerre's Rita! (Ora)."
•Rita Ora chases her family through the hedge maze.
•Rita Ora sits on the ground all covered in ice.
I don't know, the possibilities are endless. Ora is open to things outside of horror, however, and is thinking of her acting future in practical terms. "I would definitely have to wait and see what roles I get offered," she said. "It's all based on that. But yes, [acting is] definitely something I would love to do more in the future."
BOO!