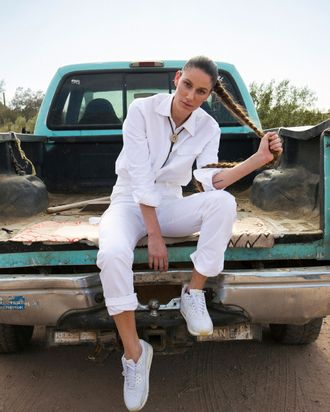 Aside from a caftan, the best summer outfit is a head-to-toe white ensemble. But even the monochromatic look can be updated and adapted for current trends. Roberta, a new sustainable fashion brand from Laura Mariani and Kindred Black founders Alice Wells and Jennifer Francis, only has five pieces in their capsule collection. However, they prove that it's all you need to make a surprisingly trendy look.
All the clothes are made with natural fabrics at a family-owned factory in New York. The minimal aesthetic also echoes their sustainable ethos. "There's a lot of shoppers in this world, we're happy when people scale back what they buy, even if that may seem counterintuitive for a store to say," Francis and Wells said. Each piece is priced between $48 and $228.
Singer Niia modeled the clothes in the Arizona desert posing alongside mini and full-sized ponies plus mint-green trucks. The brand's five pieces include a white pair of jeans, a white button down, a white T-shirt, a white tank top, and a white bandeau. But when paired with a bolo tie and vintage jewelry the look is less Emily Dickinson and more chic cowboy. And isn't that the perfect attitude for summer? The collection launches today on Kindred Black, and will be released in more stores in 2019. Scroll on for some Western inspiration to add to your #SummerOutfitResearch.