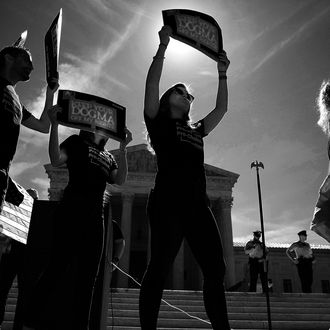 Women protest in Washington, D.C.
Photo: Win McNamee/Getty Images
According to a new poll from NBC and The Wall Street Journal, 52 percent of Republicans do not think that Roe v. Wade, the landmark Supreme Court decision that established a woman's legal right to get an abortion, should be overturned.
The new poll shows record high support, with an overall 71 percent of Americans in support of the decision. The results of the poll come at a time when abortion rights advocates worry that Donald Trump's nomination of Brett Kavanaugh to the Supreme Court could bring greater restrictions on abortion rights across the country.
That data shows that 88 percent of Democrats and 76 independents also support the Roe v. Wade decision. This most recent poll supports findings from June from the Data Center for Progress that most Americans do not want to see abortion rights taken away.