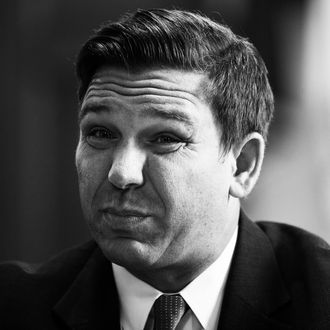 Florida gubernatorial candidate Ron DeSantis.
Photo: Drew Angerer/Getty Images
Just a week after landing in the news for calling Alexandria Ocasio-Cortez a "girl … or whatever," Florida gubernatorial candidate Ron DeSantis is back on his worst behavior, this time with a disturbing campaign ad that flaunts his love for Donald Trump.
In the 30-second-long video, DeSantis interacts with three children, two of whom are his own, after his wife declares that he's "an amazing dad." In the first frame, DeSantis shows his toddler how to "build the wall" with cardboard blocks, which is followed by a frame of him reading Trump's Art of the Deal to another child.
"Then Mr. Trump said, 'You're fired,'" he says to the kid who's seated in his lap. "I love that part."
The video concludes with a shot of DeSantis holding his infant daughter, whom he is apparently teaching how to talk. Holding one of Trump's infamous campaign signs, DeSantis reads "Make America Great Again" to his daughter.
Per the Fort Lauderdale Sun-Sentinel, it is DeSantis's hope that the ad will appeal to Trump supporters, whose votes he needs to help him defeat his opponents — and in particular, Adam Putnam — in the Republican primary. Seeing that all 30 seconds of the ad grossly pay homage to the president, the ad will likely cement his lead over Putnam, whom he's currently expected to defeat.
Here's hoping that Florida is ready to replace Republican governor Rick Scott with a Democratic one!