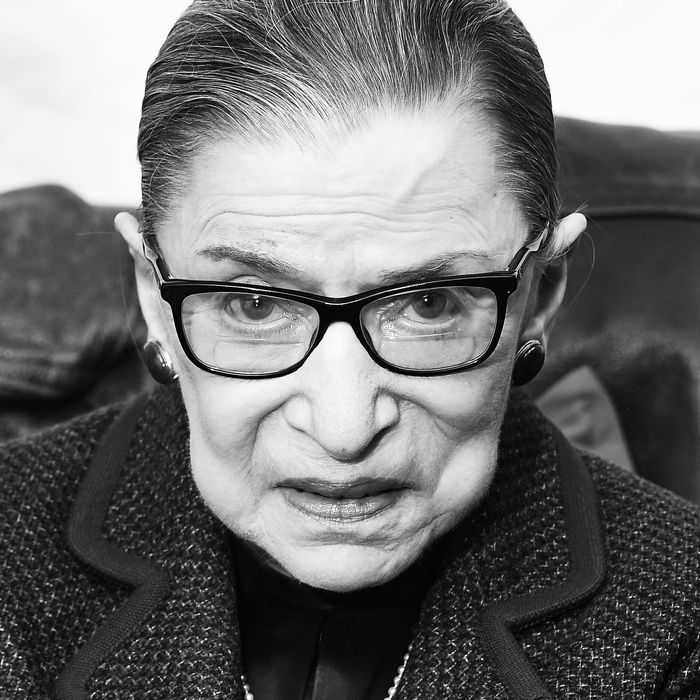 Ruth Bader Ginsburg.
Photo: Michael Loccisano/Getty Images
In a rare moment of good news, Justice Ruth Bader Ginsburg said she hopes to stay on the Supreme Court until she's at least 90.
"I'm now 85," Ginsburg said, according to CNN. "My senior colleague, Justice John Paul Stevens, he stepped down when he was 90, so [I] think I have about at least five more years."
Since Trump's inauguration, and Justice Anthony Kennedy's recent decision to retire, many have been anxious about the fate of the aging Supreme Court justice, a trailblazer for women's rights and other progressive causes. But Ginsburg is going strong; she's "proud of keeping herself in shape to do this job," she said in the recent documentary RBG, with a rigorous exercise routine involving push-ups, planks, and arm-curls. She even hired law clerks through 2020, assuring the populace that she's sticking around.
When Ruth Bader Ginsburg's name was trending on Twitter last night, some panicked, thinking the Supreme Court justice might be in bad health. But upon realizing she had gained traction for saying she would continue to serve on the Supreme Court, the Twitterverse breathed a collective (digital) sigh of relief.
You can resume your day now.