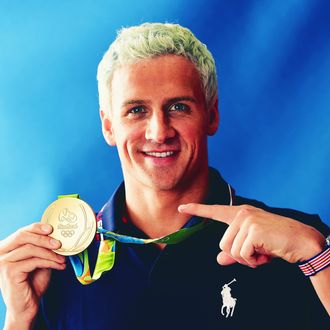 Ryan Lochte with one of his medals.
Photo: Harry How/Getty Images
Olympic athlete and former silver fox Ryan Lochte might just be the worst scammer of all time. The man can swim a 200 individual medley in under two minutes, but he can't seem to get away with a single swindle.
On Monday, Lochte received a 14-month ban from the U.S. Anti Doping Agency (USADA) after he was seen getting an intravenous injection — on a picture he posted on Instagram himself. According to the New York Post, Lochte was not injecting a banned substance, but the USADA bans all forms of intravenous injections, which are not permitted unless the athlete is hospitalized or the USADA has granted an exemption for the injection. Neither situation applied to him.
Lochte reportedly cooperated fully with the investigation that was launched by the USADA, which marks a change from the last time he was involved in a scandal. That was back in 2016, when he tried to convince Brazilian police, and Olympic audiences everywhere, that he and two teammates had been victims of an armed robbery.
That was quickly proved to be a lie, because of CCTV footage that directly contradicted the swimmers' stories. They did, however, pee outside of a gas station. It was a national embarrassment, one that Lochte paid for with a ten-month suspension, a forfeiture of the $100,000 bonus money he received for medaling, and four sponsorship deals.
Now Lochte will lose out on multiple chances to compete, including at this year's national championships, the Pan Pacific Championships, and the international championships. It is unknown how this will effect Lochte's stated goal of competing in the 2020 Olympics in Tokyo.
The ban will retroactively start on May 24, which is when Lochte posted the photos to his social media. The posts have since been deleted from his accounts, but a screenshot shows that he actually tagged the photo with "#IVDrip" which is truly so incredible that you have to marvel for a moment at the audacity of this man, who has SIX Olympic gold medals.