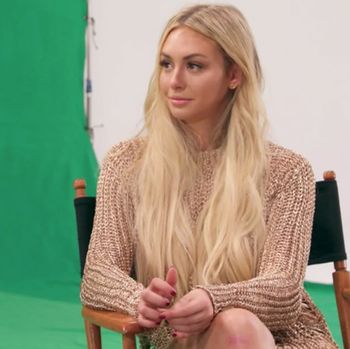 With his new show Who Is America?, Sacha Baron Cohen tries to be an equal-opportunity offender. Interviewing men and women on the right and left, in politics and culture, the show aims to make asses of them all. In the first two episodes, though, the disparity between the show's failures and successes have been glaring. The show's standout moments have all consisted of conservative men revealing their own inner depravity, from gun lobbyists advertising firearms for toddlers to a Georgia state representative screaming racial slurs and Dick Cheney signing a waterboarding kit. The show's most confusing and uncomfortable moments have been those in which Cohen interviews women. It bears noting that these episodes were the product of an all-male writers room.
In the first episode, Cohen — in character as an ex-con turned aspiring artist named Ricky Sherman — interviewed a Laguna Beach art gallerist named Christy Cones. Unlike most of the other people in the episode, she is not famous, nor does she have any great cultural power, other than getting people to buy expensive art. Cohen gives her a painting ostensibly made with his feces and then gets her to give him some of her pubic hair to be part of a homemade paintbrush, which he says contains trimmings from Banksy and Damien Hirst. She plays along good-naturedly. At one point, he goes to the bathroom and returns with a portrait of her supposedly painted partly with his own semen.
These kinds of gross-out jokes are Cohen's bread and butter. Given the selection of interviewees in the rest of the episode, though, Cones stands out: she's the only nonpolitical person, and one of the only interviewees who isn't a public figure. Her inclusion carries a sense of false equivalence, as if she's supposed to be just as worthy of our disdain as the gun lobbyist trying to promote a unicorn-shaped uzi for toddlers. Is the mild amusement of an obvious gag (The art world: absurd and pretentious!) a satisfying payoff?
In the second episode, Cohen again interviews only one woman amid a string of powerful male political and media figures: Bachelor alum Corinne Olympios. Unlike Cones, she does not acquit herself well; Cohen's character, an Italian TV photographer named Gio Madando, gets her to lie and claim she went to Sierra Leone to help fight ebola, and has her do an ad encouraging people to sponsor child soldiers (so they can get better weapons). Yet there's little comic triumph watching her put her foot in her mouth. She seems flummoxed and out of her depth the whole time. As Kathryn VanArendonk writes for Vulture, "Why is the assumption that it's hilarious to watch a powerful man manipulate a fame-hungry, clueless younger woman?"
On his show, Cohen has all the power. He controls the situation entirely; he has the knowledge and his interview subjects are in the dark. Seeing powerful figures be embarrassed and rendered powerless by a prankster comedian is funny because it upends the existing order of things. When Cohen interviews people who don't have power, the dynamic changes. The burden on Cohen to justify what he is doing becomes higher; the embarrassment needs to feel warranted, or at least surprising or revealing in some way.
As I said, Cohen's bits with nonpublic figures are hit and miss. I thought the segment where he interviewed the Trump-supporting couple worked, because their responses (making a real effort to understand his point of view and be welcoming to him, as well as some beautiful facial expressions) were unexpected. The segment where he interviewed people in a focus group about a proposed mosque development in Arizona exposed the deeply ingrained nature of American racism; even if we already knew it abstractly, it was still shocking to witness. While it's a matter of personal taste, neither Cones nor Olympios seem to warrant this lampooning to me, nor do either of them reveal anything very surprising about "who" America is — they teach us that art people are self-serious and reality stars are desperate for publicity, which is hardly news.
Cones gave an interview to Vulture after the show where she said she was delighted to be a part of it, and ultimately came off looking pretty good. Yet in post-show interviews from this week, Olympios spoke about how she felt scared and manipulated throughout shooting. "I was getting really upset and I had no idea what was going on," she told the Daily Beast. The whole thing left a bitter taste in my mouth, especially given the context: Olympios had first found her 15 minutes of fame on a franchise notorious for exploiting and manipulating women, and later alleged that a fellow contestant sexually assaulted her. (He was ultimately cleared of wrongdoing, but the whole thing still casts a shadow over The Bachelor universe.)
Last week, news broke that Who Is America? has an all-male writers room (a writers room that includes rape apologist Kurt Metzger). It is hard not to think that the show, which purports to reveal America's inner character, is hamstrung by the limited range of people behind the scenes, both selecting its targets and weighing in on the optics of Cohen's exploits. I am by no means saying that Cohen should not be "mean" to women, or that women can't handle it. On the contrary: There are many bad and stupid women out there whom I would delight in seeing interviewed by one of his characters. (For example, I look forward to the upcoming Sarah Palin segment, although even Sarah Palin jokes feel a little stale at this point.)
If Cohen had asked the Cut staff, I feel confident we could find many women who would be great objects for his satire. There are plenty of culturally influential, female-focused fields where he might have found targets who might be more revealing of contemporary America: new-agey woo woo wellness, girl-boss style corporate empowerment, social-media influencers, panic-mongering parenting gurus — the list goes on. Yet the social types he lampoons here — the clueless culturati, the vapid reality star — feel like cheap, dull targets, ones he could easily have pushed beyond had he had a few more women in the room.