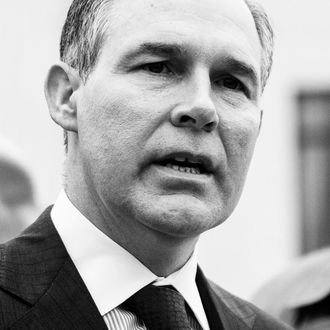 Scott Pruitt.
Photo: Andrew Harrer/Bloomberg via Getty Images
In today's edition of Members of the Trump Administration Getting Heckled at Restaurants, Scott Pruitt was confronted by a rightfully angry mother at a D.C. restaurant, where she slammed the EPA administrator for his disregard for the environment and urged him to resign.
According to Splinter, Kristin Mink didn't realize Pruitt was in the eatery until she was already having lunch with her toddler and husband at Teaism in downtown Washington. As soon as her husband noticed him, she got up — toddler in arms — to go have a word with him.
"I just wanted to urge you to resign because of what you're doing to the environment and our country," Mink says, captured in a video uploaded to Facebook. "This is my son. He loves animals. He loves clean air. He loves clean water. Meanwhile, you're slashing strong fuel standards for cars and trucks, for the benefit of big corporations."
In a statement to Splinter, she said she chose to bring her toddler to the table with her to send Pruitt the message, "you are wrecking the earth THIS KID, every kid, will inherit." Halfway through Mink's rebuke, Pruitt clearly starts to become uncomfortable.
She continues: "You've been paying about 50 bucks a night to stay in a D.C. condo that's connected to an energy lobbying firm, while approving their dirty sands pipeline. We deserve to have somebody at the EPA who actually does protect our environment, somebody who believes in climate change and takes it seriously, for the benefit of all of us, including our children."
To conclude her message, she urges Pruitt to resign before his scandals push him out. While the video cuts there, Mink says that Pruitt left soon after being confronted.
"His actions are the source of so much of my despair for my child's future and frankly the future of humanity," she said in a statement to Splinter. "He's literally sacrificing our air and water, the well-being of coastal communities, all kinds of unique natural resources, for short-term personal gains … I honestly don't know how he sleeps at night."