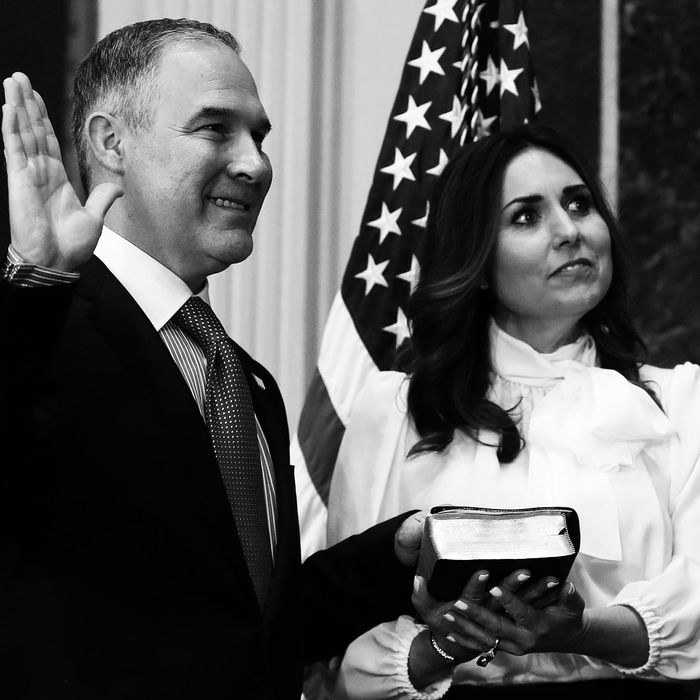 Scott and Marlyn Pruitt.
Photo: AP/REX/Shutterstock
There is no one in the Trump administration as committed to scamming as Environmental Protection Agency head Scott Pruitt. From fancy little pens to fancy little snacks, report after report has emerged of Pruitt using his position and his influence to grift the hell out of taxpayers. And the most recent? He reportedly tried to get aides to find his wife, Marlyn, a job — but it had to pay at least $200,000.
Now, Pruitt has already been accused of trying to land his wife a Chick-fil-A franchise of her own. But a new report indicates that's not where his job-hunting stopped.
Per the Washington Post, who spoke to former aide Samantha Dravis:
Dravis, who The Post recently reported had helped seek employment for Pruitt's wife, Marlyn, told investigators that the administrator wanted his spouse to find a post with an annual salary of more than $200,000, according to one individual familiar with the matter.
Of course, those aren't the only accusations to emerge. Pruitt also reportedly asked aides and assistants to use their personal credit cards when booking hotels. Per former executive scheduler Sydney Hupp:
In one instance, according to former deputy chief of staff Kevin Chmielewski, Hupp was stuck with a bill of roughly $600 for a booking she had made for the administrator's family during the transition. 
Anna Delvey, much?