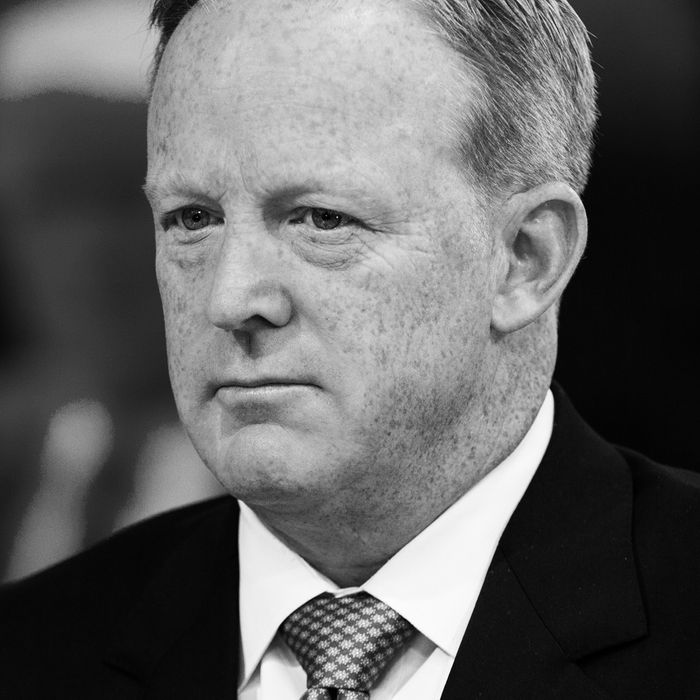 Sean Spicer.
Photo: Nathan Congleton/NBC via Getty Images
In the fall of 2006, Congressman Mark Foley of Florida resigned after it was revealed he sent sexually explicit and predatory emails and instant messages to teenage boys working as Congressional pages. Now, in a new book, former Trump administration press secretary Spicer says Foley was "fun to be around." Huh.
In the Wall Street Journal, Jonathan Karl shares a few details from Spicer's forthcoming book, The Briefing: Politics, the Press, and the President. For one, Spicer confuses the name of the British spy who wrote the infamous "pee tape" dossier — Christopher Steele — with that of Michael Steele, the former chairman of the Republican National Committee (oops) in the tome. Spicer also refers to himself as a "good soldier" and calls Trump "a unicorn, riding a unicorn over a rainbow."
But perhaps most glaring are his comments in the book about Foley, which are starting to circulate on Twitter:
Per the WSJ:
There are also some omissions: He writes about working for Rep. Mark Foley (R., Fla.), who he says "knew how to manage the news cycle. And on top of all that, he was good to staff and fun to be around." He never gets around to mentioning that Mr. Foley later resigned in disgrace for sending sexually explicit messages to teenage boys working as congressional pages.
Uh, well, I guess he's said worse?