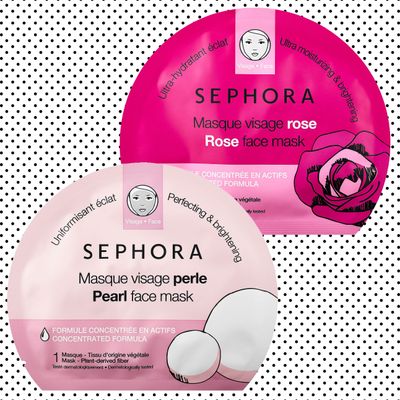 Today in fun beauty news, Sephora has dubbed this weekend "Free Face Mask Weekend." Free can be a loaded term, so let's break it down: From Friday July 27 to Sunday July 29, Sephora will be handing out Sephora Collection sheet masks (regularly $6 a piece) to anyone who walks into any of the brand's brick-and-mortar stores. Sephoras inside JCPenneys stores also count. Both shoppers and browsers with no intention of actually buying anything will get a face mask (until they run out, of course.) It will cost $0. Again, it will be free. It will be fun.
The only thing you really have to do other than show up is choose between the two freebies up for grabs: Pearl, a brightening mask in Millennial Pink packaging, and Rose, a moisturizing mask packaged in the shade of fuchsia pink everyone said would eclipse Millennial Pink. Sheet masks may or may not do anything other than feel amazing, so don't sweat the decision. Just treat yourself. Your parched, July face will thank you.
If you buy something through our links, New York may earn an affiliate commission.