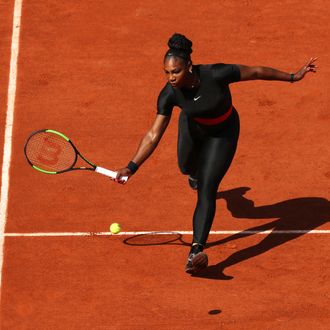 Serena Williams.
Photo: Matthew Stockman/Getty Images
Serena Williams is rightfully, shamelessly confident, which she not only exudes but will also vocalize if asked. Just a month after the tennis star remarked that she "has never been intimidated by anyone" in response to a sexist question, Williams was lobbed a question about being one of the greatest athletes of all time, to which she did not rebut or apologize. She instead acknowledged it, as she should.
At a Wimbledon press conference, Telegraph's Jamie Johnson asked Williams if it's hard being "the one to beat" because everyone who plays her brings their A-game to the court.
"I'm glad someone admitted that," Williams responded. "But yeah, every single match I play, whether I'm coming back from a baby, or surgery, it doesn't matter, because these young ladies bring a game that I've never seen before … That's what makes me great. I always play everyone at their greatest, so I have to be greater."
A verified GOAT.