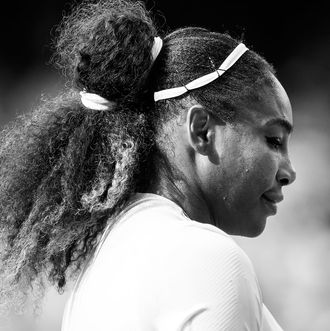 Serena Williams.
Photo: Tim Clayton/Corbis via Getty Images
Serena Williams is tired of being constantly drug tested. In a few tweets posted Tuesday night, she wrote that "out of all the players it's been proven I'm the one getting tested the most." She added* that it was "that time of the day to get 'randomly' drug tested and only test Serena."
Williams only recently returned to playing tennis after having her daughter Olympia with husband Alexis Ohanian. She competed excellently in the Wimbledon final and plans to continue competing. Apparently, in order to do so, she will be expected to submit to a higher than average number of drug tests.
"Discrimination? I think so," wrote Williams. "At least I'll be keeping the sport clean."
*This post has been updated to show the correct timing of Serena Williams's tweets.