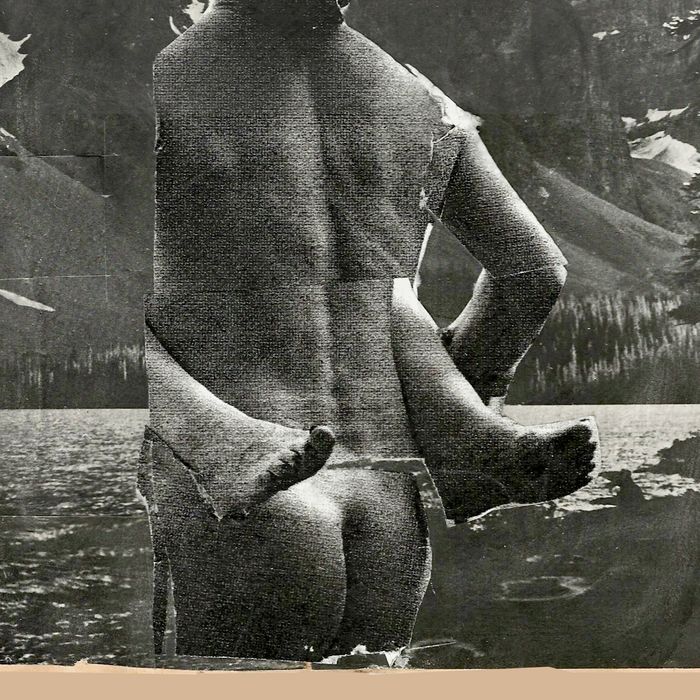 New York's Sex Diaries series asks anonymous city dwellers to record a week in their sex lives — with comic, tragic, often sexy, and always revealing results. This week, a publicist who took the summer off from dating but believes he might meet someone when he least expects it: 26, gay, West Harlem.
DAY ONE
7 a.m. Today is my first day back at work after a weeklong trip to Aruba with a group of friends. I'm also going to Fire Island this weekend, which, I know, makes me sounds like one of those assholes who uses "summer" as a verb. I'm not. I just lucked out with some good deals on trips for this month.
8 a.m. I'm a publicist, so coming back to work after a vacation usually means coming back to a boatload of emails. Luckily, I have to go to a press day for one of our clients later, which means I can work from home until then. I get to catch up on everything while still in bed in my underwear.
10 a.m. It dawns on me as I'm working that I'm pretty horny. Aruba was an awesome trip, but it was also firmly a "friends" trip, so I didn't get laid or even jerk off for a full week. Obviously I took care of business the night I got home, but I still have an itch that needs scratching.
I decided at the beginning of June that I'm taking the summer off from dating. I just started a new job and want to focus on getting acclimated. Summer in New York is also the most fun, so getting bogged down with anything too serious feels counterintuitive. But, okay, if I'm being honest with myself, almost everyone I know who's in a happy relationship said it happened when they weren't looking for one. So maybe I'm trying out some reverse psychology on myself. Still, it felt cleansing to delete a bunch of my dating apps (trust me, I had A LOT).
11 a.m. The press day is being held in a suite at the Mandarin Oriental. Man, this view is breathtaking.
3 p.m. Everything goes really well and the press day is officially wrapped! I get a "Good job" from my boss, which feels great since I'm still pretty new here. The best part is that we have the suite for the day so we get to stay and work from there and order room service. I feel like a grown-up Eloise, which might be one of the gayest things I've ever thought.
8 p.m. Home and catching up on the TV I missed while I was on vacation when R texts me to ask what I'm up to. He lives in my neighborhood and we met on Scruff (one of the dating apps I still have because it's not really for dating) a few months ago. He's good-looking, older than me, and a food critic — that's all I really know about him. Like I said, I have an itch I need to scratch and what's the point of small talk if you know deep down it isn't going to lead anywhere?
9:10 p.m. At R's place. I get about half a sentence in before he pounces on me and we start making out. I'm not mad about it.
9:30 p.m. R gives me a look that says "I'm done with foreplay, let's do this" and I give him a look back that says, "Yes, please."
10 p.m. R finishes super loudly and I can't help but think, "Nailed it." We spoon a little afterwards and then I tell him I have to leave.
DAY TWO
8 a.m. Fuck. Fuck. Fuck. I overslept.
9:20 a.m. Okay, 20 minutes late isn't the worst. Still trying to make a good impression here, though.
11 a.m. Lots of work to do.
5 p.m. A bunch of my friends have been raving about the movie Eighth Grade, so I decide I'm going to go see it after work. I know seeing a movie alone sounds pretty sad, but I actually love it.
8 p.m. Well, I'm really glad I saw that movie alone because I cried. A lot. What a fantastic film.
9:30 p.m. In bed. I decide to make some headway in the book I'm reading for my book club, which is Crazy Rich Asians. I actually picked this one out. Yes, I am one of those people who reads the book once they find out a movie is being made. Sue me.
11 p.m. I watch some porn and then fall asleep. Porn is like my Ambien.
DAY THREE
9 a.m. We have a pretty fancy coffee machine in the office, so I've taken to drinking espresso in the morning. Today we receive an all-staff email that it's not working. This is the worst.
9:15 a.m. Another all-staff email that there are pastries from a breakfast meeting left over in the kitchen. What a fantastic turn of events!
3 p.m. I'm in two group chats: one with the people I'm going to see Janelle Monáe with tonight and one with the people I'm sharing a house with in Fire Island this weekend. There's a conversation about where we should meet for drinks before the show and conversation about a grocery order. My phone has basically been buzzing nonstop.
6 p.m. Head to meet my friends at a diner before the show. We get some light dinner and drinks and then head over.
8:30 p.m. I missed the opening act waiting in line for the tour T-shirt and getting a drink. Worth it.
10:30 p.m. Janelle Monáe is a goddess. We're all lucky just to be standing here.
DAY FOUR
9 a.m. I do that thing kids did in high school where if you go to a concert you wear the tour shirt the next day. A guy on the street stops me on my way in and said he was jealous he couldn't go.
12 p.m. Work, work, work, work, work, work.
4 p.m. My friend V is texting me about going out for drinks for his birthday tonight. I'm missing the main festivities to go to Fire Island this weekend, so I say yes. I tell him I'm probably going to be a little late, though, because I have to do laundry and pack.
8 p.m. Thankfully, I have laundry machines in the basement of my building so I can sit and watch TV while everything's getting clean. Tonight's pick is Younger, a quintessential summer show.
10 p.m. V tells me he's en route to Hardware. I've just now finished folding my clothes. I quickly make myself a drink, hop in the shower, and get ready as fast as I can.
10:45 p.m. I'm somehow the first one at the bar and feeling pretty beat from the week so far. I remember vodka Red Bulls are a thing.
11 p.m. V arrives and we begin catching up immediately. I know him from my last PR agency. He starts filling me in on the latest office drama.
11:30 p.m. There's a drag show going on and the drag queen calls for volunteers from the audience. V nominates me and I'm pulled up onstage before I have time to protest. The drag queen makes everyone onstage do their best orgasm noise. I want to die.
12:30 a.m. We're at Industry now and I buy V a shot for his birthday, even though I'm slightly annoyed with him for posting the video of me onstage at Hardware in his Instagram Story. They're playing great music here, so I get over it pretty quickly.
DAY FIVE
9:05 a.m. Only five minutes late to work and I even managed to stop at Penn Station and get my train/ferry tickets before the summer-Friday rush.
9:15 a.m. Fuck, I forgot to pack the white T-shirt I bought for the White Party we're supposed to go to.
1 p.m. Rushing to Penn Station to meet W, one of the guys in my house who's taking the same train as me.
1:20 p.m. And so begins the very long journey to Fire Island. First a train, then a shuttle bus, then a ferry. I pass the time alternating between catching up with W, reading more Crazy Rich Asians, and attempting to nap.
4:30 p.m. We're in the Pines, baby! W and I take a while to get settled. We drop our stuff off at the house and then head to the beach, where the rest of our housemates are.
5 p.m. After saying hi to the rest of the crew, I decide this is a good time to peel off and look for a replacement white shirt. I stop in one store that is literally selling a white T-shirt that says "Pines" on it for $100. Um, no. I end up settling on a tank top in a different store that's still kind of pricey at $35, but it's Andrew Christian so I sort of get it.
6:30 p.m. We're all at the Blue Whale for Low Tea, which is basically just happy hour. The punch is strong and delicious.
8 p.m. Back at the house for dinner. W's making burgers.
9 p.m. We're gearing up for an "underwear party" at Cherry Grove. I brought some cute black Calvin Klein briefs, but I'm wishing I had worked out more before I got here. Oh well.
10:40 p.m. We made it and … we're 20 minutes early. Whoops.
11 p.m. Time to check all of our clothes.
1 a.m. The music is bumpin', I've had several drinks, and there are cute boys here. Can't complain!
2:30 a.m. Shit. I don't know where any of my friends are.
2:45 a.m. I run into D, who I've hooked up with before, actually, but nothing ever came of it. D can't find his friends either so I ask if he wants to walk back to the Pines together. He says yes and I'm grateful because I wasn't really sure how I was going to get back on my own.
3:30 a.m. I'm now at D's hotel and we're fooling around in his bed. This escalated quickly …
4 a.m. D's in a twin bed at his hotel so we both agree I should probably head back to my house. At this point, I know where I am, so the walk is easy. I fall asleep almost instantly when I get back.
DAY SIX
10 a.m. Wake up to W shouting at us to get breakfast. It's eggs with some meat and peppers mixed in. Tastes glorious. When I get to the kitchen I realize I'm still in my black underwear from last night. Except they're not mine. They're a different pair of black briefs. Fuck. Nothing gets between me and my Calvins — except another dude, apparently.
1:30 p.m. Time to get ready for the White Party! The tank top I bought actually works really well with the rest of my outfit.
3 p.m. After stopping for some booze, we arrive. The White Party is being thrown by some other guys from volleyball and their house is great. They have a full pool and hot tub and a roof deck.
5 p.m. K, one of the guys in my house, has taken over as DJ. His playlist is full of gay bops, which basically means lots of Ariana Grande, Britney, Beyoncé, Rihanna, Charli XCX — you get it. Basically all the best music for a pool party. I'm several drinks in and loving it.
6 p.m. Fire Island is all about tradition, so we're back at Low Tea. Everyone in my crew is pretty drunk at this point, so it's probably not the best that I decide to buy a round of punches for everyone. Oh well.
7 p.m. Once again, everyone has scattered, but the bar is a five-minute walk from our house this time so I'm not worried. W texts everyone that dinner will be at 7:30 and to be on time. I'm about to leave when I meet P. He's older than me, mid-30s, sexy and very nice, works in management consulting. I'm not really sure how long into our conversation it is before we start making out.
7:30 p.m. Fuck, I'm late for dinner, but having sex with P feels so good. We're back at his house and he knows exactly how fast to go and where to put his hands.
8:15 p.m. P and I are cuddling and I remember dinner again. We exchange numbers and make plans to meet up later. It seems a little too good to be true. Trying not to get my hopes up.
8:30 p.m. As it turns out, everyone else was late to dinner too, so it was no biggie. We eat, then I chug some water and decide to go lie down. I pass out pretty quickly.
10:30 p.m. When I wake up, everyone is in my room playing games. They're switching from Heads Up to Mafia. I have a text from P that says "heading to Pavilion in a few, we should meet up." Holy shit, he wasn't kidding.
11 p.m. I'm somehow able to corral the group into going out even though this seems like a never-ending day. Such is the magic of the Pines.
1 a.m. It takes a while for me to find P at Pavilion. When I do, we start making out almost immediately. He is such a good kisser. We dance and have a drink or two before deciding to head back to his place again.
3 a.m. P holds me in his arms on the couch while we make out. We have some good pillow talk, get to know each other a little better. This is so not what I expected going into this weekend, but I don't hate it at all.
4 a.m. P and I alternate between sleep and fooling around. He tells me he wants to spend a day with me just having sex and watching movies, which are two of my favorite things.
DAY SEVEN
8 a.m. Oh my God, I think I got maybe two hours of sleep? Probably less. I feel like death, but don't really care. There's a volleyball tournament on the island today and P has to get ready for it. We have a long kiss good-bye and then I head back to the house.
9:30 a.m. I'm on my beach towel chugging a giant bottle of water while the rest of the guys warm up. I put on sunscreen and try to nap.
12:30 p.m. This tournament is supposed to go on all day so I alternate between watching, napping, and walking back into the main dock area to get food/more water. P finds me on the beach and we make out on my towel a little. Everyone sees, but, like, whatever.
3:30 p.m. There's a break before the final playoffs and P asks if I want to come with him to get food. I still feel like death, but I say yes. He holds my hand while we walk on the beach and I'm not gonna lie, it's pretty fucking romantic. I'm not trying to get ahead of myself or anything, but COME ON. I find out he's obsessed with The Golden Girls, and can quote it on demand, which is adorable.
4:30 p.m. The tournament is over. We all decide to grab our stuff, hop in the pool to cool off, and then take the next ferry home.
5:30 p.m. P is staying an extra day so I text him good-bye from the ferry. He tells me he's going to come meet me to see me off. I have a tendency to jump several steps ahead with guys I like in my head, so I tell myself to calm down and that he's just being polite.
5:40 p.m. They've started boarding and it's raining so I can't wait for P much longer. I text him to let him know and he apologizes for not making it in time. Then he asks if I want to hang out on Wednesday. I didn't get a rom-com good-bye, but I think this is better, right?
6:30 p.m. We're on the Long Island Rail Road now and the rain is coming down HARD. I get a text from P that says, "I had so much fun with you this weekend" with a bunch of heart emoji. I can't wait until Wednesday …
Get Sex Diaries every week.
Want to submit a sex diary? Email sexdiaries@nymag.com and tell us a little about yourself.