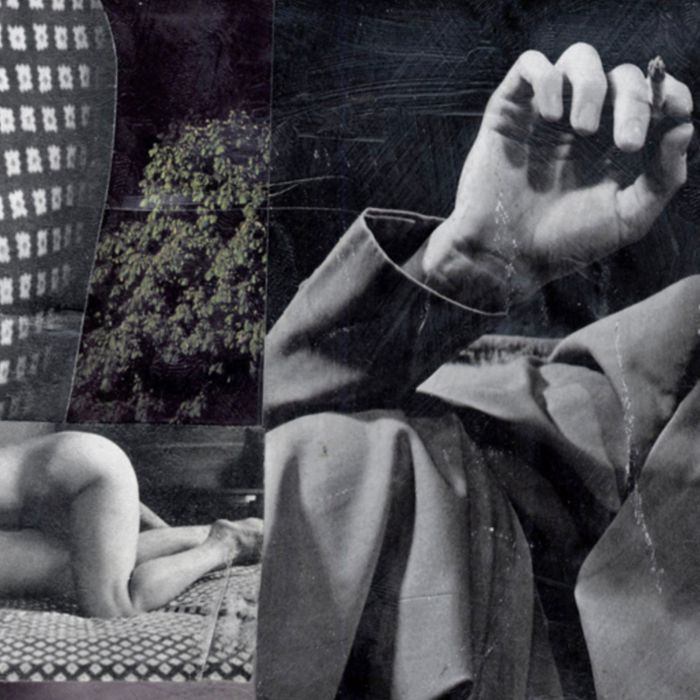 Photo-Illustration: James Gallagher
Get Sex Diaries every week.
New York's Sex Diaries series asks anonymous city dwellers to record a week in their sex lives — with comic, tragic, often sexy, and always revealing results. This week, a type-A lawyer cautiously optimistic about the man she's going to see in London: 35, single, straight, Washington, D.C.
DAY ONE
7 a.m. Wake up to an alert from Wells Fargo. Joy, I've overdrawn. Looks like I'm cash poor for the next 48 hours until payday. I hesitate to say broke because I do have a healthy 401(k), IRA, and other investments, but cash seems to elude me. Those four-digit monthly student-loan payments certainly don't help. Thank God for American Express.
8 a.m. I head out and walk to work. It's usually a struggle to make it to my office by 8:30, but I have a little pep in my step since I'm leaving tomorrow for a little European vacation. I'm a lawyer so I don't have hours exactly; all that matters is I get my work done. Which I always do because the type-A personality goes along with being a lawyer.
11 a.m. Tons of work to do, which makes me super anxious because I literally haven't packed yet. The #MeToo movement has put a decent amount of work on my plate — don't get me wrong, it's meaningful work, and I'm ALL about the culture shift at workplaces that needs to take place, but time is just not on my side right now.
1 p.m. I text S "24 Hours + Winky Face." S is the person I'm going to be visiting in Europe. I met him via Tinder a few months ago while he was in town from the U.K. for a wedding and we had a ton of fun and amazing sex, so why not just fly around the world to hang out again? We've communicated pretty much every day since we met and I just … I don't know, maybe I like him?
7 p.m. Leaving work. Need to pack! What kind of lingerie should I bring …
1 a.m. Still packing. I don't sleep well — my mind is racing about everything that could go wrong when I get to London.
DAY TWO
6 a.m. Awake and shit, I'm cramping. Period is coming even though I thought I had a handle on my birth control where I could skip this month. I hope homeboy doesn't mind period sex.
M definitely didn't have a problem with it. M was my nearly yearlong "friend" who was 100 percent wrong for me, but one of the purest souls and freest spirits I've ever met. I never considered him to be my "person," but he definitely made me feel incredible. After I met S, I hung out with M the next week and it didn't feel the same. He felt it too and ended things; it was a weird, bittersweet feeling.
12 p.m. Race from the office to the airport. Being type A, I had to create contingency plans during my two-week absence for everyone who works for me. I spent four hours making sure everything was CRYSTAL clear.
7 p.m. On my connecting flight to the U.K. … and all I can think about is, what if S doesn't show up at the airport? My love life has had little success, which at 30 has turned me into a real cynic. My last boyfriend cheated on me (on my birthday!) and ended up marrying the girl. I don't blame her (assuming she had no idea), but damn, that fucked me up. I've had semi-relationships since, but I've been extremely guarded. It's just easier for me to casually date and party with fuckboys than commit to someone who might hurt me. I'm smart, cute, fun, and charming so finding not-committed men really isn't an issue. The few I've tried to take it to the next level with have come up with the same lame excuses: "I'm not ready," "You're too good for me," and "Let's be friends" are all the most common.
DAY THREE
7 a.m. LANDING. OMG. First stop: Bathroom. Well, actually customs, but that took like five minutes. I run to the bathroom to brush my teeth, change my underwear, and put on fresh makeup. If all goes according to plan, S and I will bang immediately.
8 a.m. Yay, S is here! I'm super happy and excited, but I have to play it cool. Some of my friends say that I wear ALL my emotions on my sleeve, so I've been working on it.
9 a.m. Back at the hotel. He's super hung-over, but whatever. Still manages to perform and as I prayed … sex was amazing. Immediately went down on me, ripped my clothes off and fucked me in like three positions before coming.
11 a.m. I left my cell phone at the airport. Luckily, S is nice and drives me half an hour to get it. An American guy would have probably recommended I get an Uber. I truly think British men are chivalrous.
7 p.m. After a LONG day of walking and sightseeing, we pull in for dinner. One of S's friends joins. I'm a little nervous about meeting friends, but I'm charming, so it should be fine.
11 p.m. Dinner went really well! No idea if the friend knew the circumstances S and I met in, but he was chill. We get back to the hotel and sleep.
DAY FOUR
8 a.m. Yay, morning sex! My favorite!
5 p.m. We do a day of touristy things — took some cute pictures at a castle, and a ton of walking. S made a weird reference to a tour guide about me, insinuating I was his girlfriend, which caught me by surprise.
7 p.m. We arrive in the next city and get drinks/dinner. I'm a little nervous because we're near where S grew up. I don't want to run into any family or people he knows. He's not worried about it, but I am. Not totally sure why.
10 p.m. Two bottles of rosé later and shocker, we run into some guy who recognizes S and stops to chat. This random dude is hammered and I have to awkwardly stand there for a longer time than I would have liked.
12 a.m. Back to the hotel room. S and I make out a little and just hang. Things are going great until I notice a familiar name on his Snapchat …
A few months ago, I noticed on my Facebook newsfeed another American girl had tagged S in a post about a visit. I got really upset, but didn't say anything mainly because I didn't feel like I had any right. I mean, he's not my boyfriend — I can't control who S hangs out with, so I made a decision to let it go. Nearly canceled the trip, but I had a friend talk me off the edge. Truth be told, it was something that really bothered me. Like, is this just a regular thing for him? I want to be a special flower, damnit.
Seeing that Snap triggered me and I just decide to go to sleep rather abruptly. S is super confused, but I'm drunk and don't want to say anything I regret.
DAY FIVE
8 a.m. Another early wake-up. No morning sex and my period has arrived. It's super light so I'm thinking we can still get it in, but I may have fucked up the mood a little.
10 a.m. We did some more sightseeing and checked out monuments. It's an absolutely beautiful day, and S is trying, but I'm a bit tired. I blame my period for my mood shift the night before. I just don't have the courage to tell him the real deal.
8 p.m. We arrive in London and go to dinner with a friend from law school and her fiancé — she's British and her fiancé is American, but has been in London for a decade. Dinner is actually really good and fun! S voted for Brexit so I was praying that didn't come up in conversation. He's not a racist or nationalist or anti-immigrant at all, but my friends are very liberal and may have been aggressive about it. Feeling very relieved.
10 p.m. Bottle No. 3 of rose. Oh boy.
11:30 p.m. We part ways. S has to work the next day so we go back to his flat. We go to bed pretty quickly and there's no sexy time, unfortunately. I meant to give him a blow job, but I fell asleep instead.
DAY SIX
8 a.m. S looks super sexy in his professional outfit. When he leaves for work, I stay in bed, clearly in some kind of daze — this is not me-like behavior.
10 a.m. I finally drag my ass out of bed and go explore. Having time apart after the last few days is probably good, though there were a couple neighborhoods I would have wanted S to explore with me.
3 p.m. S checks on me throughout the afternoon, which is actually super sweet.
5:30 p.m. He's working a little late, which is fine. I meet up with childhood friends for drinks/appetizers. This guy has lived in the U.K. since graduating from college and has nothing but great things to say. Granted he's a successful private-equity manager but still, it got me thinking … I could totally do the whole expat thing. I'm pretty confident I could get a job, buuuttt let's not get ahead of ourselves here. I do want a husband and kids — it's so easy for me to get sidetracked into a fantasy when things are going somewhat well.
8 p.m. I end up meeting S at a bar with his boss and a couple co-workers. We are drinking Champagne by the bottle and I get super hungry. Me and hunger do not mix well. I tell S I'm sticking around, but not happy about it. He gets it and we all shuffle to another place to get food. S's boss is wasted, but really likes me for some reason so we're ripping shots like its fucking 2006. Dear God, this night isn't going to end well.
1 a.m. Still out. S's boss followed me to the bathroom and handed me some … party favors. Yes, this 45-year-old VP. What is going on?!
1:30 a.m. Uh oh. Emotions … I go outside because I'm feeling emotional. I don't have a real excuse to go outside because I don't smoke, so I just get up from the table. I try to call my GBFF to calm me (he knows the deal). No answer. Fuck.
1:45 a.m. S comes outside looking for me … I'm just standing there like a weirdo around all the smokers. He knows something is up and is trying to get it out of me. The substances don't help and finally I end up breaking down about that other girl who I think visited him. Did I mention I'm really good at self-sabotage? I'm convinced that's it … and I've already started texting my childhood friend to stay with him and his gf for the rest of my time in town.
2:30 a.m. Okay, we talked it out. I'm back to my senses(ish). I told S I never brought up the other girl because I didn't want to seem like a crazy person. He insisted it was just a visit, he didn't plan anything, she came on her own, did her own thing, yada yada. Truth be told, none of that matters. I just felt disrespected and generally sad … even though I do think he's being sincere.
3 a.m. We head back home. I'm kind of in and out of it on the ride back, feeling emotional again.
4 a.m. Well, whatever happened a few hours ago doesn't seem to matter anymore. We're making out furiously and then next thing you know, I'm riding him and getting super close to orgasm. All's wells that ends well, right?!
DAY SEVEN
9 a.m. We wake up; S is late for work and I have an afternoon flight. No good-bye sex, but we hug and I literally don't want to let him go. I have a euphoric feeling that I hadn't experienced in a long time. Or maybe I'm just coming down from the coke.
1 p.m. In the security line at the airport. I can't stop sobbing. The German businessmen behind me are probably making fun of me and I've had a couple random people ask me what is wrong. Truth be told, I'm not feeling any specific sadness. I'm really happy this whole experience happened, but the what comes next part is what is killing me. I have a newly renewed sense of relationship confidence. I like S, but I also know I can't make someone fall in love with me or be ready for a meaningful relationship. I know there's a high probability this whole situation was in haste.
9:30 p.m. I land in the States. Thirteen hours of flying later and it's still the same day. So happy to be in the promised land, a.k.a., California with my mom and family. I love my family so much and I know it will be uplifting to be surrounded by them, especially since I'm feeling so confused and emotionally raw. Still, I'm a little hopeful about what might happen next with S. You never know …
Get Sex Diaries every week.
Want to submit a sex diary? Email sexdiaries@nymag.com and tell us a little about yourself.