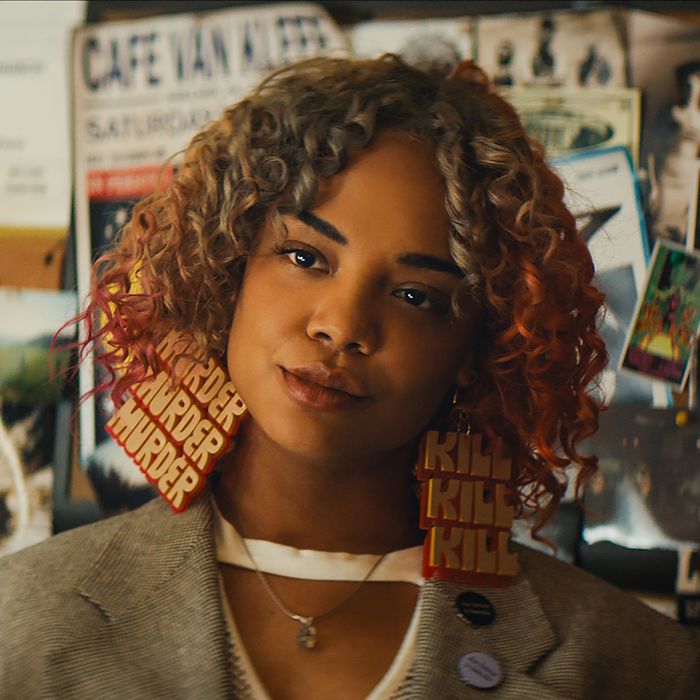 Tessa Thompson in
Sorry to Bother You
.
Photo: Annapurna Pictures
The MURDER/KILL earrings worn by Tessa Thompson's character Detroit in Boots Riley's satire Sorry to Bother You are sadly sold out in the film's merch store. But there's a more subtle form of her self-expression that's still easy to access: Her makeup.
Makeup artist Kristen Coleman worked with Riley and costume designer Deirdra Govan to create Detroit's overall look, but Coleman was the one responsible for dreaming up the contents of her makeup bag. Most movie protagonists wear very traditional makeup, but Detroit feels real because she experiments with beauty, much the way she does with her outfits and her art.
"I'm friends with a lot of people who represent the Afropunk vibe — the real-life Detroits of the world," says Coleman of her inspiration. "It's really great to have this look in a feature film that is in tons of screens right now because it's a sub-sub culture that usually wouldn't get this much exposure."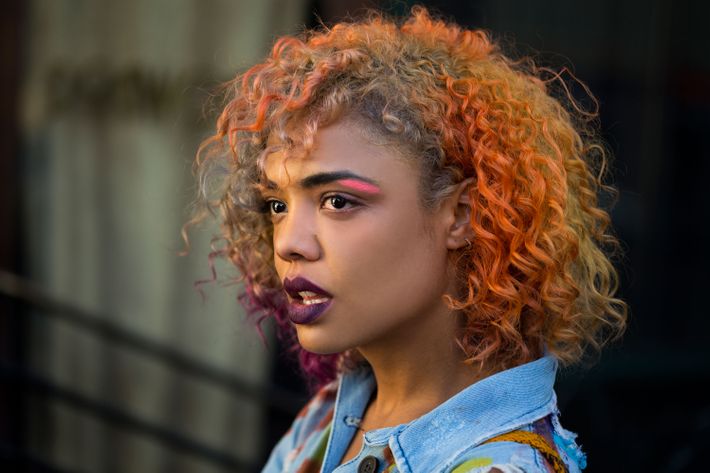 To create the look, Coleman turned to millennial beauty companies. "I got to use a lot of stuff that's more creative that you typically wouldn't get to use in feature films," she says. She gravitated toward brands like Lime Crime, Glossier, and Urban Decay — bold, effortless, and socially conscious brands someone like Detroit would purchase and use in real life. Even more true to life was the process. Coleman revealed that the majority of Detroit's looks were preceded by heavy "Instagram research" accompanied by last-minute Amazon orders and were often created day-of with no test-drive — not unlike how actual millennials shop. That might be why the colors, shapes, and textures of Detroit's makeup never feel contrived.
"I really want people — young women and older women alike — to look at Detroit and take a piece of her fearlessness with them. I want them to experiment, to be edgy; not to be afraid of pushing their own comfort zones when it comes to self-expression," Coleman says. Here, a guide to re-creating some of Detroit's glittery, colorful standout looks, whether you're heading to Afropunk next month or not.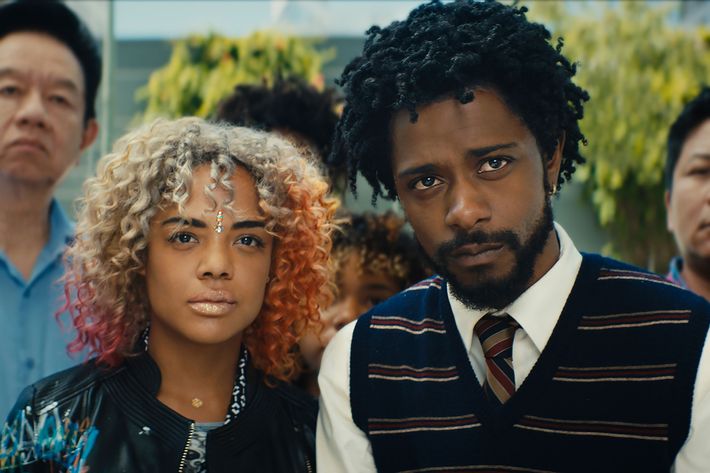 Her Glittery Statement Lip
Detroit loves a good statement lip. Coleman created this shimmery one using a custom-blended cream shade and applying a secret ingredient on top: "Just straight glitter, right on her lip."
"I didn't want it to be shiny like a gloss; I wanted it to have grainy texture because it's something we don't really see that often," she explains. To create your own version, Coleman recommends applying your favorite cream lipstick and going to town with some cosmetic-grade glitter.
Her Signature Almost-Black Brows
Detroit's makeup look changed every day, but the one constant were her brows. "She always had a strong, dark brow that was almost cartoon-y," Coleman explained. "I wanted that to be her trademark, so it was intentional that we made them fairly dark — almost black." To get that contrast in color with a more natural finish, Coleman used Boy Brow on Thompson every day.
Her Pink Brow Swipe and Bold Berry Lip
This punchy look is the one you've probably seen making the rounds. For the lip, Coleman used a liquid matte lipstick from Lime Crime (the vegan and cruelty-free makeup line for unicorns). "It's one of my favorite colors and it looks good on everyone."
For the swipe underneath her brow, Coleman created a block of color using a peachy cream from the Make Up Forever artist palette.
Urban Decay's long-lasting vegan blushes were Coleman's go-to for adding a flush of color to Detroit's look. We think the character would appreciate shade names like "Bang" (shown above), too.
Everyone needs a good nude lip in their lineup. Coleman used Glossier's Generation G lipstick in Leo on Thompson ("It was her favorite, she loved that color") for Detroit's singular nude look in the film.