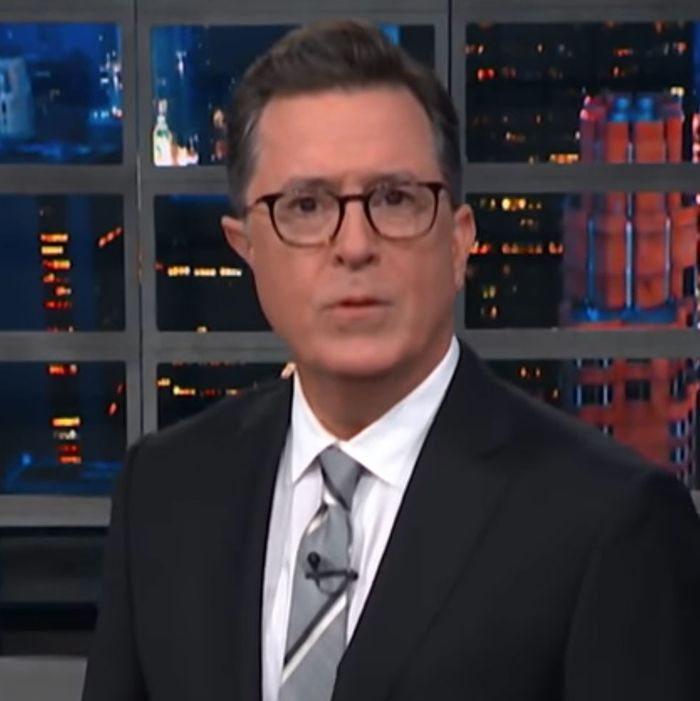 Last night on CBS's Late Show, Stephen Colbert did something that many people in the #MeToo movement have not: He took his boss to task.
"Powerful men taking sexual advantage of relatively powerless employees are wrong. We know it's wrong now and we knew it was wrong then," said Colbert, addressing Ronan Farrow's recent bombshell New Yorker article detailing decades of sexual-harassment claims against CBS head honcho Les Moonves. Describing himself as "naïve" for being surprised at the sweeping extent of #MeToo allegations within his own industry, Colbert acknowledged that, as a middle-aged guy with some power in the industry, he "might not be the right person to address this kind of systemic abuse," before doing just that.
"Everybody believes in accountability until it's their guy, and make no mistake, Les Moonves is my guy," said Colbert, explaining how Moonves hired him and stood behind the show as it struggled to find its voice. Yet, as he put it: "Accountability is meaningless unless it's for everybody. Whether it's for the leader of a network or the leader of the free world."
It's encouraging to see Colbert recognizing and utilizing his privileged position. In many ways, men like Colbert are the exact people who need to be speaking out. Men in positions of power can be instrumental in changing the status quo — it's an unfortunate truism that powerful men tend to take other powerful men seriously — and their speech can help normalize dissent and empower others who might face blowback for being the first to speak up.
Colbert's response stands out compared to others at CBS who have gone on the record about the allegations faced by their shared boss. After Farrow's report broke on Friday, many top female executives and personalities came out in support of Moonves, including Sharon Osbourne, Lynda Carter, president and chief advertising revenue officer Jo Ann Ross, and executive vice-president of daytime programs Angelica McDaniel. Moonves's wife, Julie Chen, expressed full-throated support on The Talk, the CBS show she co-hosts. The company's board said that while they would investigate the claims against him, Moonves would remain CEO. It all seemed like evidence that a toxic culture of silence at CBS could be here to stay.
Which is what makes Colbert's statement so important. He could have easily kept silent, or addressed the issues in some cursory way. But Colbert is clearly not riding a wave of dissent happening from within the company; he's an outlier calling for change as his network seems poised to revert to business as usual. Admittedly, Colbert, given his power and fame, probably isn't putting his career in jeopardy by speaking out in the way that some of these women might be. (As we saw in the Farrow article, Moonves is accused of torpedoing the careers of women who speak out against him). This is why it's all the more important for powerful men, who may not face the same reprisals, to be allies for victims, as Anthony Bourdain often was, and as Colbert has been in the past.
Still, Colbert's words aren't exactly consequence free. If Moonves does stay on, Colbert and his show will continue to be under his purview. While the executive is extremely unlikely to fire a popular host like Colbert, he could certainly make his life difficult in myriad ways. For so long, women have faced devastating consequences — to their careers, to their personal safety — as a result of speaking out about abusive men. It's encouraging to see men speaking out as well, especially those who have a little bit of their own skin in the game.