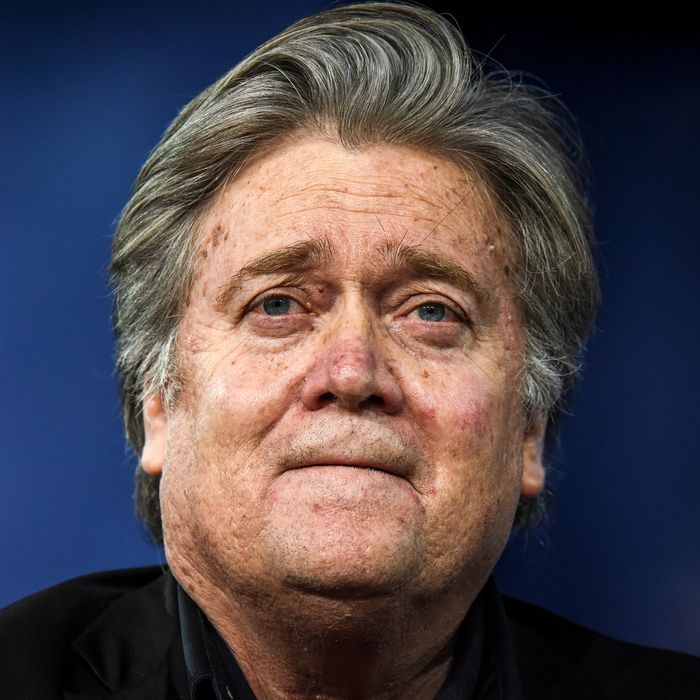 Steve Bannon.
Photo: Bill O'Leary/The Washington Post/Getty Images
Summer 2018 has been the season of current or former Trump administration staffers being confronted by civilians in public settings. Kirstjen Nielsen, Scott Pruitt, Stephen Miller, Elaine Chao, and, in the most high-profile case, Sarah Huckabee Sanders, have all felt the wrath of citizen anger in recent weeks.
On Saturday, it was Steve Bannon's turn.
The frequently three-shirted former chief strategist to President Trump was browsing at Black Swan Books, an independent bookstore in his hometown of Richmond, Virginia, when a fellow customer approached him and called him a "piece of trash."
Unlike in other recent cases, though, Bannon appeared to have an ally on the scene.
"Steve Bannon was simply standing, looking at books, minding his own business. I asked her to leave, and she wouldn't," Nick Cooke, the owner of the store, told the Richmond Times-Dispatch. "And I said, 'I'm going to call the police if you don't,' and I went to call the police and she left. And that's the end of the story.
"We are a bookshop. Bookshops are all about ideas and tolerating different opinions and not about verbally assaulting somebody, which is what was happening," Cooke continued.
Richmond police told the Times-Dispatch that a call had been made, but that it was canceled before any officers were sent to the store. There were no details about the interaction beyond the "trash" comment, and the woman's identity was not confirmed. It's also not clear if Cooke and Bannon had a previous relationship; Cooke did not answer the Times-Dispatch's question on the subject.
In any case, the jolt of incivility likely came as a shock to Bannon, who is recently back from the refined salons of Europe, where he spent several weeks rubbing elbows with some of his favorite quasi-fascists.