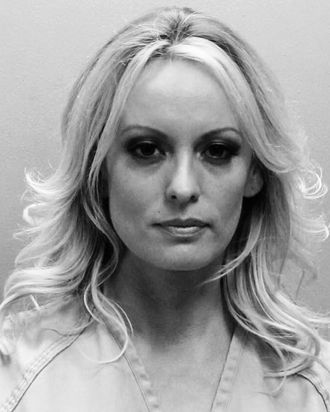 Stormy Daniels.
Photo: Franklin County Sheriff's Office via Getty Images
Earlier this month, Stormy Daniels was arrested for allowing patrons to touch her while she performed at an Ohio strip club — an arrest that may have been premeditated, according to a damning new report in the Fayette Advocate.
On July 12 — the night of Daniels's Columbus performance for her "Make America Horny Again" tour — she was accused of violating Ohio law by "touching" club-goers, some of whom were actually undercover VICE officers. The three misdemeanor charges against Daniels were thrown out just 12 hours later, after which Columbus Police Chief Kim Jacobs called her arrest a "mistake."
But according to emails from inside the Columbus Police department, which were provided by a whistle-blower to the Advocate, Daniels's arrest seems to have been quite the opposite of a mistake. Emails from Detective Shana Keckley, one of the lead arresting officers on July 12, indicate that law enforcement had shown up specifically to target Daniels — which runs contrary to the police department's previous claim that Daniels had simply gotten caught up into an investigation into potential human trafficking and prostitution at the strip club.
Days before the "sting" operation, the emails show Detective Keckley sent herself multiple news stories, videos, and photographs of Daniels. Even more damningly, in an email she sent after Daniels was charged, Keckley wrote, "I got the elements …. we arrested Stormy this morning, she is in jail." (Per the Advocate, elements are "the burden police officers must meet in order to make an arrest.") In another email, she told officers to thank her "in person" for her achievement.
"It is clear that Keckley and her fellow officers were there because of Stormy and only because of Stormy," the whistle-blower told the Advocate. "The emails definitely show that the police lied about it being a prostitution and human trafficking mission."
Neither Columbus Police media liaison Denise Alex-Bouzounis nor Columbus City Attorney Zach Klein responded to the Advocate's requests for comment. Daniels's personal lawyer, Michael Avenatti, was far less tight-lipped when the newspaper reached out to him.
"These emails are very disturbing," he said. "We will get to the bottom of this one way or the other."