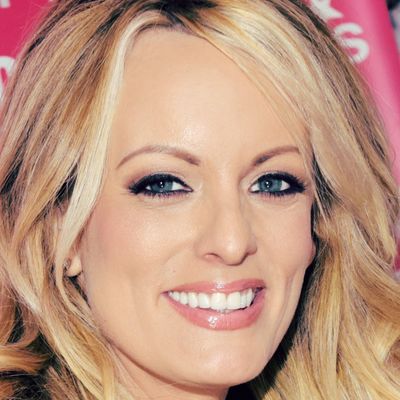 Stormy Daniels.
Photo: Tara Ziemba/Getty Images/2018 Getty Images
Stormy Daniels was arrested last night after she allegedly allowed patrons to touch her while she was performing at a strip club in Columbus, Ohio. A state law says that only family members can touch a nude or semi-nude dancer. Daniels, who has said that she had an affair with Donald Trump in 2006 and was reportedly given a $130,000 hush payment, was released on bail early Thursday morning.
Her lawyer Michael Avenatti called the charge "bogus" and said it was a politically motivated setup. Daniels will face three misdemeanor charges, which Avenatti plans to fight "vehemently."
Daniels announced that she would be putting her performance planned for tonight in Columbus on hold because of the previous night's kerfuffle.
Update: July 12, 1:30 p.m.
More details about the encounter have emerged. According to the Daily Beast, two female vice cops and two male colleagues reportedly went to the strip club where Daniels was performing on her Make America Horny Again tour. They arrested her, along with two other club employees, after watching her perform. Three of the cops went up to Daniels during her performance while one watched from afar.
The law that prevents nude or semi-nude performers from being touched by or touching audience members was passed in 2007, but Daniels is only the 23rd person to be arrested for it, per TMZ.