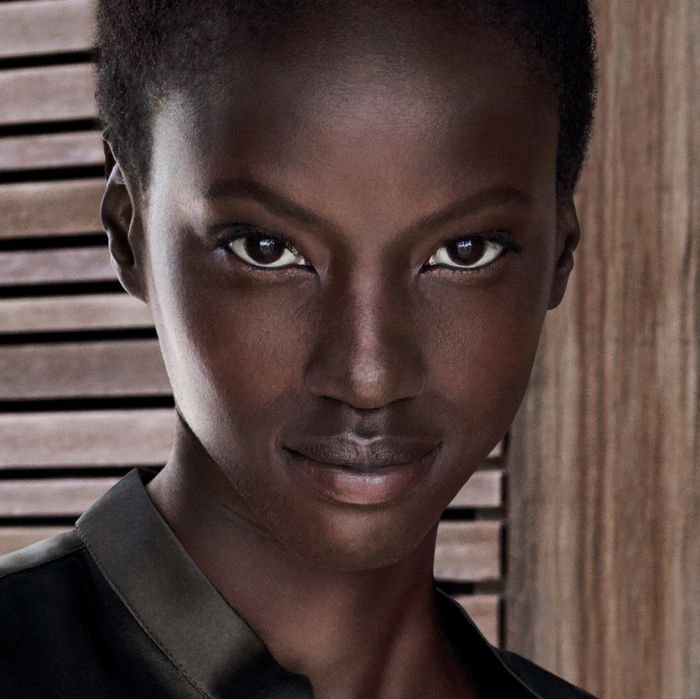 Anok Yai.
Photo: Courtesy of Estée Lauder
Estée Lauder's newest spokesmodel was discovered in college. Biochemistry major Anok Yai was at Howard University's homecoming when a street-style photographer took her photo. After the simple photo went viral, Yai started getting Instagram DMs and comments from people complimenting her on her "beautiful, dark skin."
A few years later after making history as the second black woman to walk Prada (since Naomi Campbell in 1997), Yai is joining the Lauder brand. In a press release, she enthused about her new role: "I am so excited to be a part of the Estée Lauder family. To be a woman of color representing an iconic brand that has continuously been at the forefront of beauty, is an honor. I hope to be an inspiration to young girls and women and encourage them to feel undeniably beautiful."
Yai is one of the darkest-skinned models to join the Lauder family (they recently expanded their DoubleWear foundation range to 56 shades). She joins the current roster of spokesmodels including Misty Copeland, Grace Elizabeth, Kendall Jenner, Karlie Kloss, Yang Mi, Carolyn Murphy, Hilary Rhoda, Joan Smalls, and Fei Fei Sun.