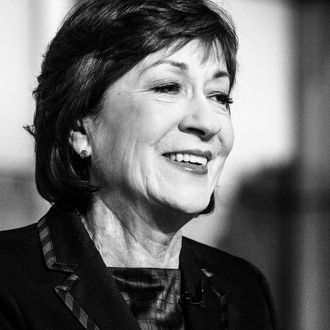 Senator Susan Collins.
Photo: NBC NewsWire/NBCU Photo Bank via Getty Images
Since Supreme Court Justice Anthony Kennedy stepped down last week, instigating justified panic over the future of abortion rights, eyes have shifted toward Republican senators Susan Collins and Lisa Murkowski, two pro-choice politicians who will be key votes in the coming Supreme Court confirmation fight. While the latter has stayed relatively mum, the former has begun to speak up about her principles as they relate to the coming process, claiming that she would not support a Supreme Court pick who would overturn Roe v. Wade.
Collins first addressed Trump's justice candidates in an interview on ABC's This Week, during which she said that she would not support a judge who would revoke the landmark 1973 ruling that established a woman's legal right to an abortion — not explicitly because she supports womens' right to bodily autonomy, but because she wouldn't want an "activist" judge who doesn't respect precedent.
"A candidate for this important position who would overturn Roe v. Wade would not be acceptable to me because that would indicate an activist agenda that I don't want to see a judge have," she said. "And that would indicate to me a failure to respect precedent, a fundamental tenet of our judicial system."
In a later interview with CNN's State of the Union, she echoed her sentiments, saying that the nominee's "judicial philosophy" must include "a respect for established decisions."
But will Collins actually stick to her guns? While she has bucked the president in the past (for example, when she and Murkowski voted against confirming Education Secretary Betsy DeVos), she has sided with the Republican party on wildly unpopular legislation, like the GOP tax bill.
Given all of Trump's potential candidates are hostile to abortion, the next few months — starting July 9, when the president is expected to announce his pick — are sure to be a wild, likely demoralizing ride.