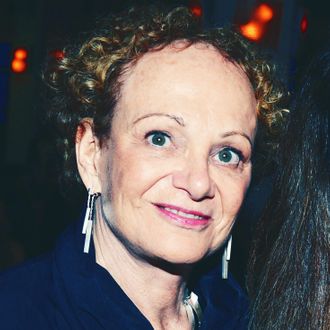 Susan Unterberg: the woman, the myth, the legend.
Photo: Patrick McMullan/PatrickMcMullan
For the past 22 years, female artists over age 40 have been receiving spontaneous phone calls with offers of $25,000 as part of a program called Anonymous Was a Woman, which awards under-recognized women in the art world. The grant program, named in reference to a Virginia Woolf quote about women who have signed their work anonymously in order to be taken seriously, has given a total of $5.5 million to female artists. Until now, the donor behind it has remained anonymous.
In an interview with the New York Times, the 77-year-old photographer Susan Unterberg revealed herself as the woman behind the project. Once an underappreciated artist over 40 herself, Unterberg said she finally decided to come forward in order to more openly advocate for female artists and to demonstrate the value in women supporting women. The funds for the grant come from the foundation Unterberg and her sister inherited from their deceased father, Nathan Appleman, who was a prominent oilman and philanthropist.
"Since I was a middle-aged artist and always wanted to support women — I'm a feminist — this seemed like the perfect vehicle," Unterberg said. "Women have been anonymous for far too long."
The award has gone to artists like Amy Sherald, who received it right before it was announced she would paint Michelle Obama's official national portrait, as well as Carrie Mae Weems, Eve Sussman, and Louise Lawler.
When curator Laura Hoptman commissioned an assessment of the grant, she found that in testimonies from recipients, the terms most often used were "lifesaver" and "miracle."
"It's such a special form of generosity to do that anonymously," said Nicole Eisenman, a painter who received the grant in 2014. "The lack of ego and the pure altruism in this grant is a beautiful thing."
Though Unterberg will become decidedly less anonymous for coming forward, she said she doesn't need the recognition.
"It's thanks enough knowing I've helped people's lives when they needed it. I'll miss the secret pleasure of seeing people benefit from afar without my name attached."