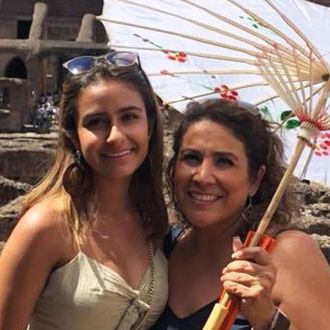 Sylvia Acosta and daughter.
Photo: Courtesy of Sylvia Acosta
On her way home from a European vacation, a Texan woman experienced what she describes as "a Handmaid's Tale moment," where a U.S. customs agent subjected her and her daughter to unwarranted interrogation at the airport, all because the two had different last names.
The incident occurred on Sunday at Dallas–Fort Worth International Airport, when El Pasoan Sylvia Acosta and her 15-year-old daughter, Sybonae Castillo — both of whom are U.S. citizens — were returning home from a student trip to Europe with the organization Education First Tours. It was there that a U.S. Customs and Border Protection agent allegedly questioned the family members over their different surnames, and told the mother that she should've taken her husband's last name to prove her maternity.
Acosta, who was "furious" after the incident, took to Facebook to share her experience. She wrote:
 I was asked if Sybonae was my daughter and I said yes. Then they asked why if she was my daughter I didn't have the same last name. I told them I had already established my career and earned my doctorate with my last name Acosta so I had decided not to change it. That is why we had different names. Then the customs office said, "Well, maybe you should have taken your husband's last names so you could prove you were her mom." I told him I had a lot of proof she was my daughter without having had his last name. He then took me to another room where they proceeded to interrogate me and my daughter to prove I was her parent.
It wasn't long before the Facebook post went viral, and Acosta further detailed the infuriating experience in an interview with Texas Monthly. She told the outlet that, after the customs agent hassled her over her surname, he intimated that she could be trafficking her daughter.
"And I said, 'Are you serious?'" Acosta recounted. "And he said yes. He goes, 'You know, we have to make sure you're not a human trafficker.'"
While U.S. citizens can legally refuse to answer questions in customs, immigration officials also have the right to stop, detain, and search anyone who enters the country, per the ACLU.
After spending 20 minutes in a secondary inspection area, Acosta says she and her daughter were allowed to leave. "She said, 'Mom, I just want to cry,'" Acosta told Texas Monthly. "And I said, I'm so sorry, honey. But I said, you know what? It's okay because you are the daughter and I'm the mother. And I said that it's my job to be strong. And I said, if you want to cry, that's okay."