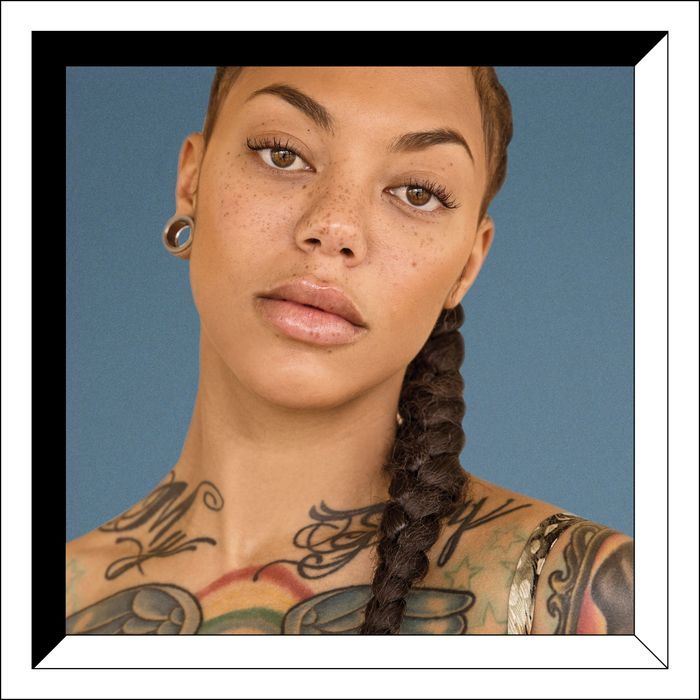 Photo: Courtesy of Miryam Lumpini
For The Skin We're In, the Cut talked to intriguing people around the country about their approaches to skin care. First up is tattoo artist Miryam Lumpini, who was born in Sweden but resides in Los Angeles. Lumpini has tattooed celebrities from Jhené Aiko to Skrillrex to Slick Woods. In her spare time, she paints magical interpretations of the signs of the Zodiac. She spoke to the Cut about dealing with the L.A. climate, embracing her freckles, and exfoliating with pure sugar.
On her beauty icon: As a young woman coming from Sweden, one of my biggest role models was Pippi Longstocking. She had red hair, braids, and freckles, and her dad was a pirate. She had a bunch of money and lived in a colorful house and did what she wanted every day. Everything just went her way.
On freckles: It's funny because people are getting freckles tattooed now! When I was younger and lived in Sweden, I wasn't exposed to as much sun. I had really pure skin, but I didn't have that many freckles. When I moved to L.A., I got more. I even have them on my lips now. There's a South Park episode with Morgan Freeman, and they say every time he says something wise he gains a freckle. That's how I think about it: Every freckle is for a moment of wisdom.
On moving to L.A.: Being out here was definitely a change for me because Sweden's air is very humid, super pure, and nice. I am now located in downtown Los Angeles, which is a little bit more polluted and dry. When I moved out here, my skin started breaking out more because of the climate and I was like, Whew, no! I have a mixture of skin types — my dad is from the Congo and my mom is from Sweden, so I'm already mixed. I think my skin gets a little confused sometimes.
On her approach to beauty growing up: My mother is really into nature. She's a teacher and has a beautiful garden. We used to take herbs and create our own salves and creams and lotions. We had so much land out there every summer. She just knows what every herb does, so she started growing a bunch.
On exfoliating: When I want to do a deep exfoliation on my face and I don't really have any products, I just take pure sugar, wet my face, really massage it in then wash it off. If you accidentally get it in your mouth, it only tastes good and your skin feels super smooth.
On her skin-care routine: I wash my face with this Neutrogena Oil-Free Scrub. And then I have a facial cream called Hydra Beauty Cream by Chanel that I really like. It smells rich and makes my skin feel nice. It makes me feel like I deserve it — that feeling of celebration putting it on.
I also try to go to the spa once a week. I might put the Boscia Charcoal Pore Pudding Intensive Wash-Off Treatment on and then lie down in the crystal room or in the sauna.
When I'm having a bad skin day, I try not to panic because then it just gets worse. You know how you freak out and just start pinching at it? What I try to do is to sleep more and drink more water. If it's a really bad pimple, I put a really strong serum on it called iS Clinicals Active Serum. I put that right on the pimple before I go to bed.
If my schedule is really tight and I'm dealing with a lot of things or have a photo shoot, I even take a sheet mask from H&M and sleep with it. If I wake up in the middle of the night because I'm annoyed by it, I just take it off.
If you buy something through our links, New York may earn an affiliate commission.